Herb Garlic Peppercorn Crusted Center-Cut Sirloin Roast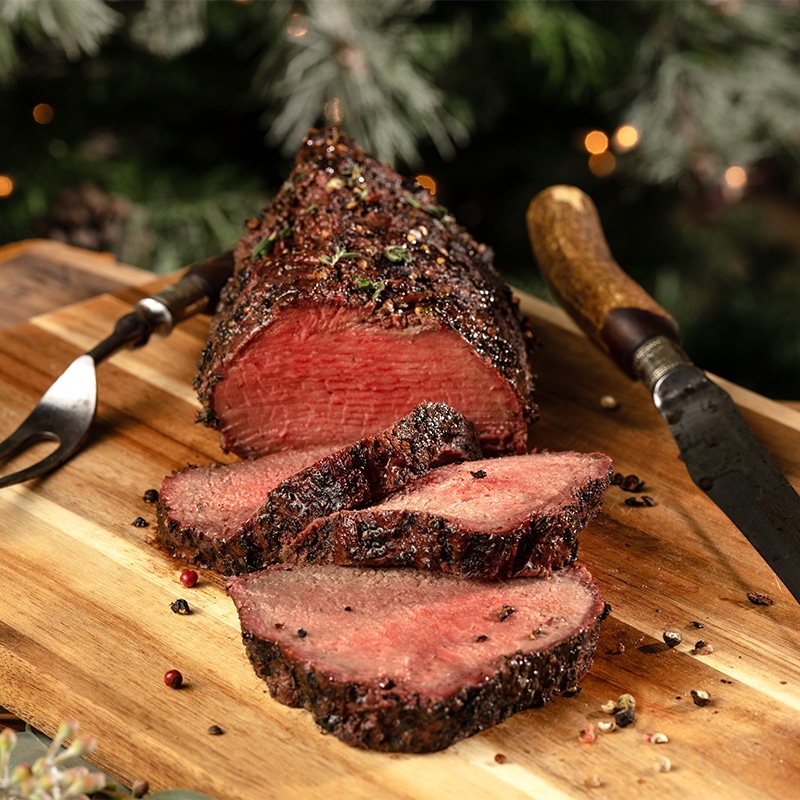 Preparation
Step 1

Preheat the oven to 350°F.

Step 2

Rub roast with olive oil. Combine seasoning ingredients in a small bowl; press evenly into the roast.

Step 3

Place roast in roasting pan or baking dish with a wire rack in bottom and cook for 40 minutes to 1 hour in the oven for medium rare to medium doneness. Remove roast when meat thermometer registers 135°F for medium rare; 150°F for medium. Transfer roast to carving board; tent loosely with aluminum foil. Let sit 10-15 minutes. (Temperature will continue to rise about 10°F to reach 145°F for medium rare; 160°F for medium.)

Step 4

Carve roast into thin slices cutting against the grain.
Nutrition Information
Nutrition information per serving: 340 Calories; 173 Calories from fat;19.3 g Total Fat (6.7 g Saturated Fat; 9.9 g Monounsaturated Fat); 120 mg Cholesterol; 552.3 mg Sodium; 2.4 g Total Carbohydrate; 0.4 g Dietary Fiber; 36.7 g Protein; 2.8 mg Iron; 473.03 mg Potassium; 0.1 mg Thiamin; 0.2 mg Riboflavin; 13.9 mg Niacin (NE); 0.8 mg Vitamin B6; 2.4 mcg Vitamin B12; 6.5 mg Zinc; 39.3 mcg Selenium; 139.3 mg Choline.
This recipe is an excellent source of Protein, Niacin (NE), Vitamin B6, Vitamin B12, Phosphorus, Zinc, Choline. It is a good source of Iron and Potassium.