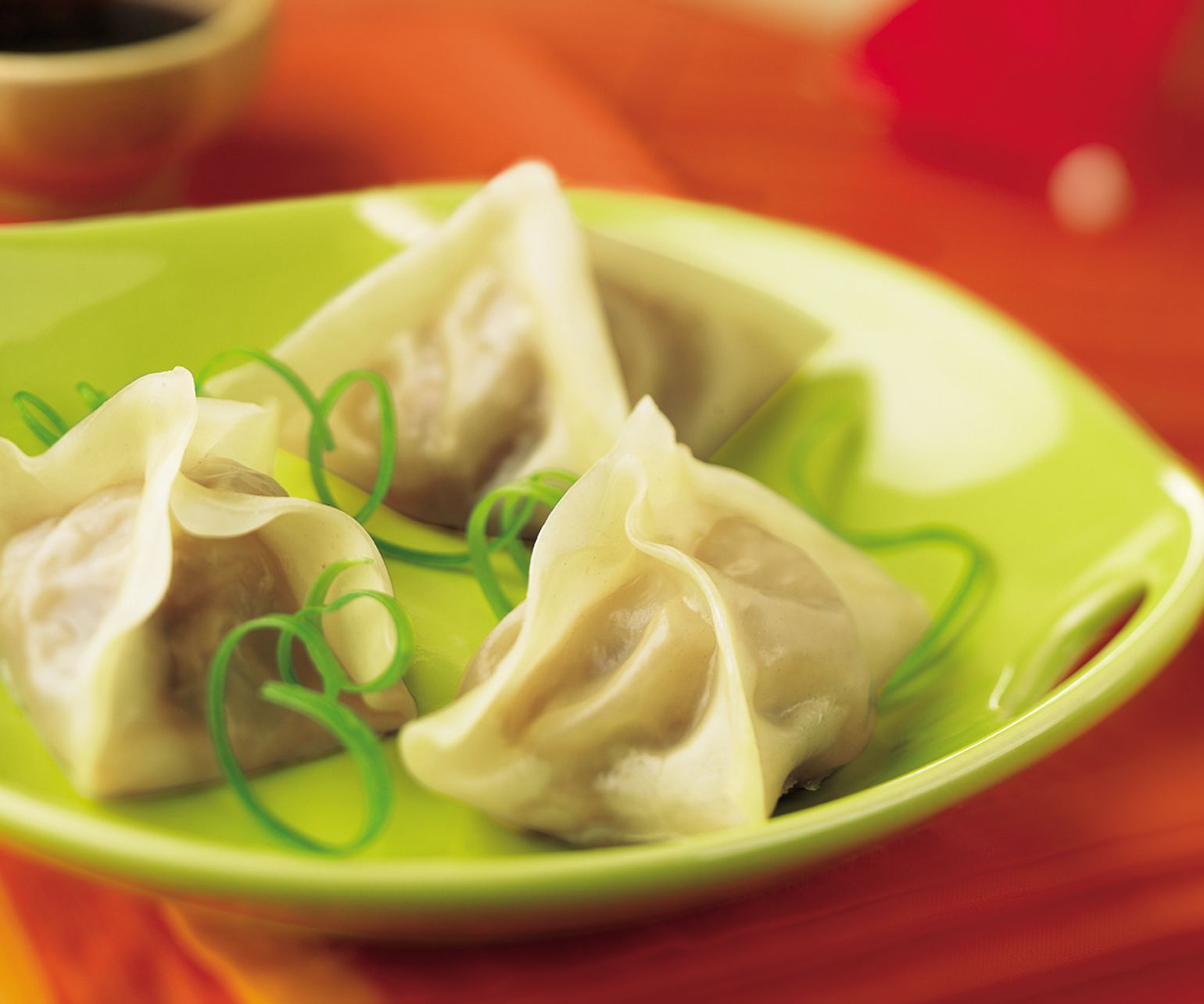 1 HRS 15 MINS
Time to Cook
Preparation
Step 1

Heat sesame oil in large nonstick skillet over medium heat until hot. Add broccoli slaw, garlic and ginger; stir-fry 5 to 7 minutes or until slaw is crisp-tender. Transfer to large bowl; cool to room temperature. Add Ground Beef and soy sauce; mix lightly but thoroughly.

Step 2

Spoon 1 tablespoon beef mixture in center of 1 wonton wrapper. (Keep remaining wonton wrappers covered with a clean, damp kitchen towel to prevent from drying out.) Moisten edges of wonton wrapper with water. Bring 4 corners of wrapper up and over filling, forming pyramid shape and pinching edges together to seal. Place on baking sheet lined with parchment or waxed paper. Repeat with remaining wonton wrappers and filling to form 48 dumplings.

Cooking Tip: Dumplings can also be shaped into triangles and rectangles by folding wonton wrappers in half over beef mixture, sealing edges as directed in step 2.

Step 3

Spray steamer basket with nonstick cooking spray. Place as many dumplings into steamer basket that will fit without touching each other, about 10 to 12. Place basket over 1 inch boiling water (water should not touch bottom of basket.) Cover tightly; reduce heat. Steam 6 to 7 minutes. Carefully remove dumplings to serving plate; keep warm. Repeat with remaining dumplings.

Cooking Tip: Cooking times are for fresh or thoroughly thawed Ground Beef. Ground Beef should be cooked to an internal temperature of 160ºF. Color is not a reliable indicator of Ground Beef doneness.

Step 4

Serve with dipping sauce. Garnish with green onion strips, if desired.

Cooking Tip: For an easy dipping sauce, combine 1/4 cup reduced sodium soy sauce, 1 teaspoon minced garlic and 1 teaspoon minced fresh ginger in small bowl.
Nutrition Information
Nutrition information per serving: 43 Calories; 9 Calories from fat; 1g Total Fat (0 g Saturated Fat; 0 g Monounsaturated Fat;) 7 mg Cholesterol; 104 mg Sodium; 5 g Total Carbohydrate; 0.4 g Dietary Fiber; 3 g Protein; 0.6 mg Iron; 1 mg NE Niacin; 0 mg Vitamin B6; 0.2 mcg Vitamin B12; 0.6 mg Zinc; 3.8 mcg Selenium.