Sous Vide Top Sirloin, Farro and Compressed Watermelon Salad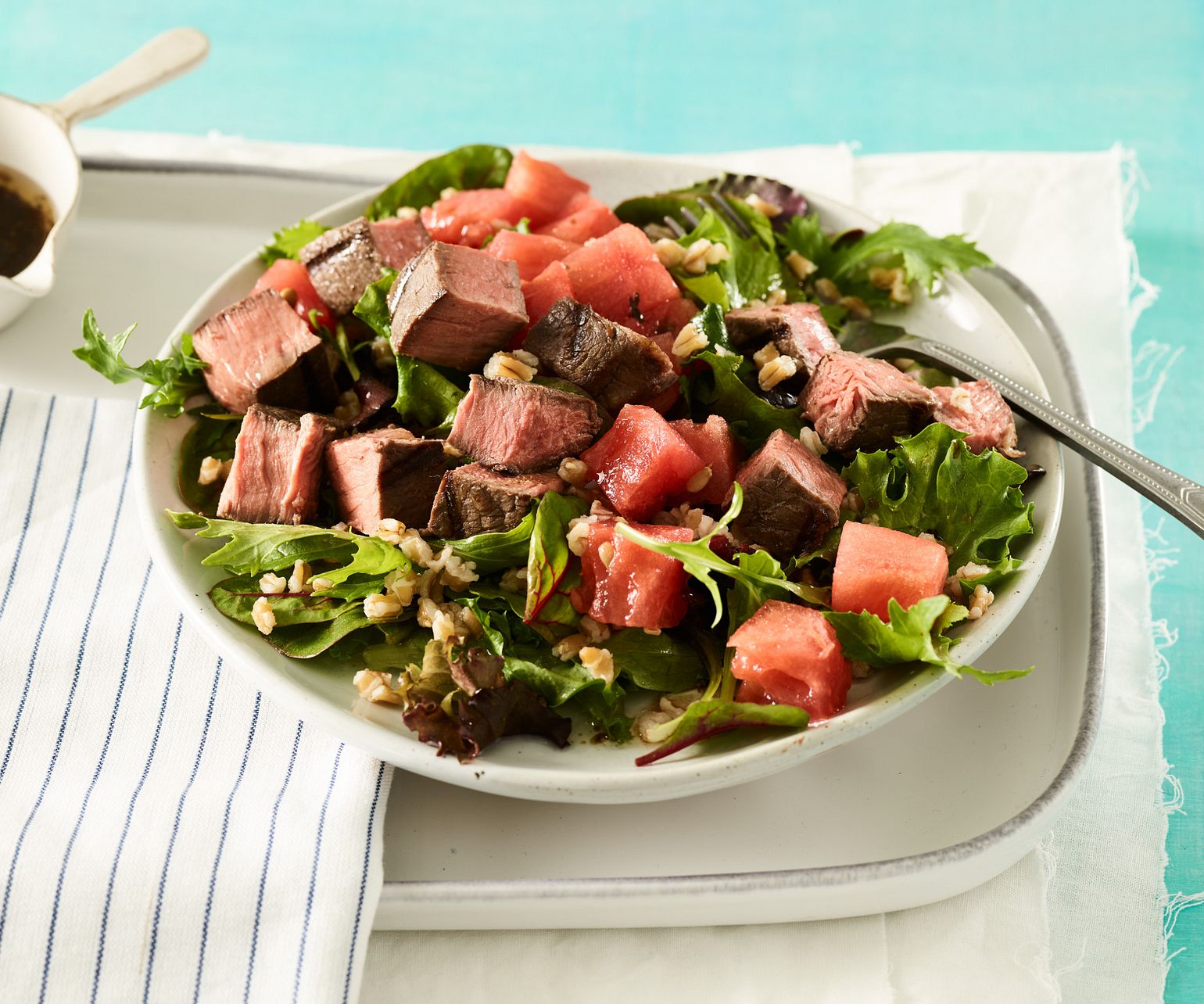 Ingredients
Compressed watermelon
Preparation
Steak
Step 1

Add watermelon and 2 tablespoons lime juice to food-safe plastic bag and seal, removing as much air as possible. Refrigerate for 2 hours.

Step 2

Meanwhile attach sous vide wand to stock pot. Fill pot with water according to manufacturer instructions.
Step 1

Preheat sous vide wand to 141°F.

Step 2

Add beef, lime juice, salt and cilantro to food-safe plastic bag and seal, removing as much air as possible.

Cooking Tip: For best results use a vacuum sealer.

Step 3

Submerge bag in water for 45 to 60 minutes. Carefully remove from bag; discard bag. 

Step 4

Preheat non-stick skillet or grill to medium. Cook steak 2 minutes on each side to 145°F for medium-rare doneness. Rest 5 minutes. Slice into 3/4-inch cubes. Season with salt and pepper as desired.

Step 5

Remove watermelon from bag; discard bag. Slice watermelon into cubes. Divide greens, watermelon, farro and beef evenly among 4 plates.  Top with balsamic vinaigrette, as desired.
Nutrition Information
Nutrition information per serving, 3 oz beef, 1/2 cup watermelon, 2 tablespoons vinaigrette, 1/4 cup farro: 419 Calories; 119.7 Calories from fat; 13.3g Total Fat (2.6 g Saturated Fat; 0.2 g Trans Fat; 0.3 g Polyunsaturated Fat; 1.7 g Monounsaturated Fat;) 56 mg Cholesterol; 635 mg Sodium; 47.6 g Total Carbohydrate; 4.4 g Dietary Fiber; 29.7 g Protein; 0 mg Calcium; 3 mg Iron; 667 mg Potassium; 0.2 mg Riboflavin; 6.9 mg NE Niacin; 0.6 mg Vitamin B6; 1.2 mcg Vitamin B12; 218 mg Phosphorus; 4.3 mg Zinc; 26.3 mcg Selenium; 94.1 mg Choline.
Nutrition Tip
This recipe is an excellent source of Protein, Niacin, Vitamin B6, Vitamin B12, Zinc, and Selenium; and a good source of Dietary Fiber, Iron, Potassium, Riboflavin, Phosphorus, and Choline.