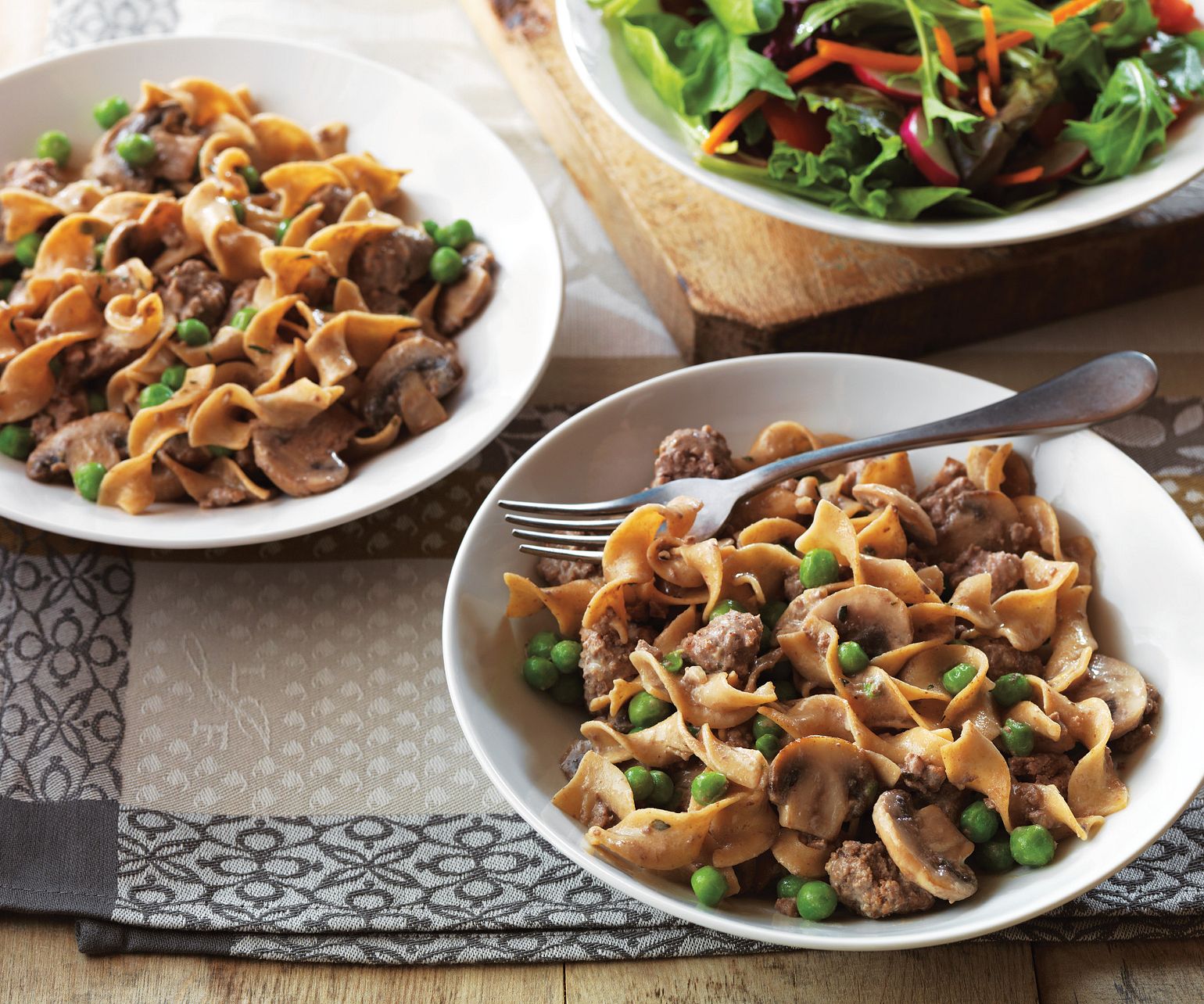 Preparation
Step 1

Heat large nonstick skillet over medium heat until hot. Add Ground Beef, mushrooms, garlic and thyme; cook 8 to 10 minutes, breaking Ground Beef into 3/4-inch crumbles and stirring occasionally. Pour off drippings, as necessary.

Cooking Tip: Cooking times are for fresh or thoroughly thawed ground beef. Ground beef should be cooked to an internal temperature of 160ºF. Color is not a reliable indicator of ground beef doneness.

Step 2

Stir noodles and broth into beef mixture. Bring to a boil. Cover and cook 9 to 10 minutes or until noodles are tender, stirring twice. Stir in peas; continue cooking, uncovered, 3 to 5 minutes or until peas are heated through, stirring occasionally.

Step 3

Remove from heat; stir in 1/4 cup sour cream and mustard. Season with salt and pepper, as desired. Garnish with additional sour cream, if desired.

Cooking Tip: One pound beef Top Sirloin Steak Boneless, cut 1-inch thick may be substituted for Ground Beef. Cut beef steak lengthwise in half, then crosswise into 1/8-inch thick strips. Heat 1 teaspoon oil in large nonstick skillet over medium-high until hot. Add half of beef; stir-fry 1 to 2 minutes or until outside surface of beef is no longer pink. Remove from skillet. Repeat with 1 teaspoon oil and remaining beef. Keep warm. Heat 2 teaspoons oil in same skillet. Add mushrooms; cook and stir 3 to 5 minutes or until mushrooms are tender and begin to brown. Add noodles, broth, garlic and thyme; bring to a boil. Cover and cook as directed in Step 2, returning beef to skillet and stirring in peas as directed. Remove from heat and continue as directed in Step 3.
Nutrition Information
Nutrition information per serving using 93% lean ground beef: 327 Calories; 104.4 Calories from fat; 11.6g Total Fat (4.8 g Saturated Fat; 0.2 g Trans Fat; 0.6 g Polyunsaturated Fat; 4 g Monounsaturated Fat;) 93 mg Cholesterol; 435 mg Sodium; 24 g Total Carbohydrate; 2.2 g Dietary Fiber; 4.3 g Total Sugars; 34 g Protein; 0 g Added Sugars; 43.9 mg Calcium; 4.5 mg Iron; 653 mg Potassium; 0.1 mcg Vitamin D; 0.6 mg Riboflavin; 10.5 mg NE Niacin; 0.6 mg Vitamin B6; 2.8 mcg Vitamin B12; 320 mg Phosphorus; 7.3 mg Zinc; 27.7 mcg Selenium; 118.9 mg Choline.
Nutrition Tip
This recipe is an excellent source of Protein, Iron, Riboflavin, Niacin, Vitamin B6, Vitamin B12, Phosphorus, Zinc, Selenium, and Choline; and a good source of Potassium.