Italian Smash Burger Napolean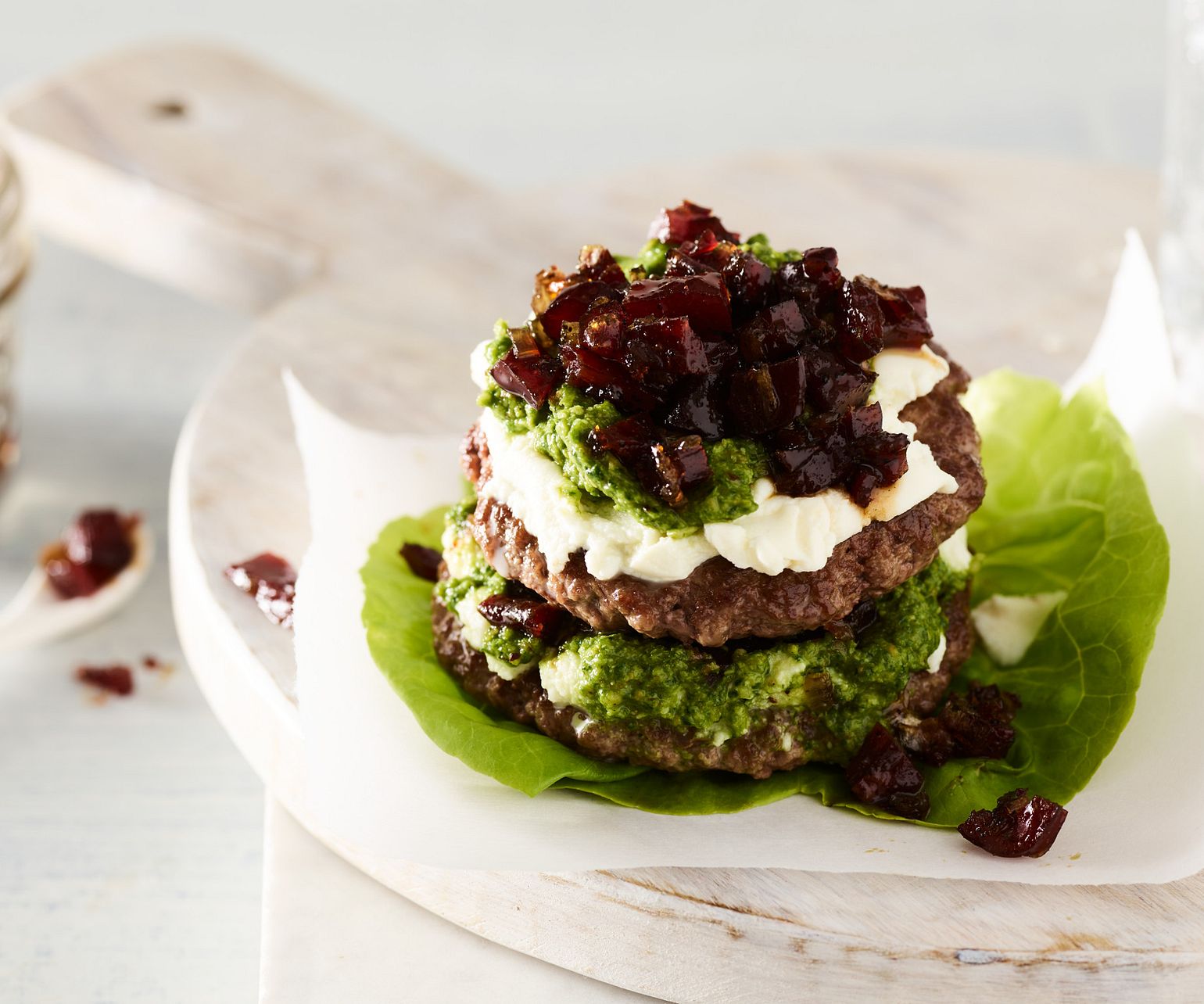 Preparation
Step 1

Lightly shape Ground Beef into eight 1/2-inch thick slider patties. 

Place patties on griddle or nonstick skillet over medium heat. Using spatula, press burger against griddle. Midway through cooking, flip, press. Cook 8 to 10 minutes until instant-read thermometer inserted horizontally into center registers 160°F. Season with salt and pepper, as desired.

Step 2

Place patties on 4 lettuce leaves to form a cup, top with 1 tablespoon cheese, 1 tablespoon Spinach-Lemon Pesto, 1 tablespoon Beef Jerky Marmalade, another patty, 1 tablespoon cheese, 1 tablespoon

Spinach-Lemon Pesto and

1 tablespoon

Beef Jerky Marmalade

. Garnish each stack with balsamic syrup, as desired.

Cooking Tip:

Spinach-Lemon Pesto: Place 2 cups fresh baby spinach, 1/3 cup grated Parmesan cheese, 1/4 cup toasted sliced almonds, 1 tablespoon fresh lemon juice, 1 teaspoon grated lemon peel (from 1/2 lemon) and 1 teaspoon minced garlic in food processor container. Cover, process until coarse paste forms. With motor running, slowly drizzle in 2 tablespoons olive oil and 2 tablespoons water through opening in cover, processing until smooth. 





Beef Jerky Marmalade: Heat large nonstick skillet on medium-high heat until hot; spray with cooking spray. Add 1/3 cup chopped red onion; cook 4 to 5 minutes, stirring occasionally. Add 1/3 cup minced shallot and 1/2 teaspoon minced garlic and cook 2 to 3 minutes until translucent. Add 3 tablespoons maple syrup, 1/2 teaspoon dry mustard and 1/2 teaspoon chile powder; bring to a boil. Add 1/4 cup sherry and 3 tablespoons brown sugar; stir to combine. When sugar is melted, reduce heat to medium. Add 8 ounces chopped beef jerky and cook about 5 minutes to reduce liquid to a thick glaze, stirring occasionally.
Nutrition Information
Nutrition information per serving, 1 slider stack: 414 Calories; 225 Calories from fat; 25g Total Fat (9.1 g Saturated Fat; 0.6 g Trans Fat; 1.4 g Polyunsaturated Fat; 11.9 g Monounsaturated Fat;) 86 mg Cholesterol; 473 mg Sodium; 14 g Total Carbohydrate; 1.4 g Dietary Fiber; 31 g Protein; 174 mg Calcium; 3.9 mg Iron; 501 mg Potassium; 0.3 mg Riboflavin; 4.9 mg NE Niacin; 0.4 mg Vitamin B6; 2.4 mcg Vitamin B12; 326 mg Phosphorus; 6.7 mg Zinc; 24.5 mcg Selenium; 88.1 mg Choline.
Nutrition Tip
This recipe is an excellent source of Protein, Iron, Riboflavin, Niacin, Vitamin B6, Vitamin B12, Phosphorus, Zinc, and Selenium; and a good source of Calcium, Potassium, and Choline.