Beef Crostini with Parmesan Crisps and Balsamic Drizzle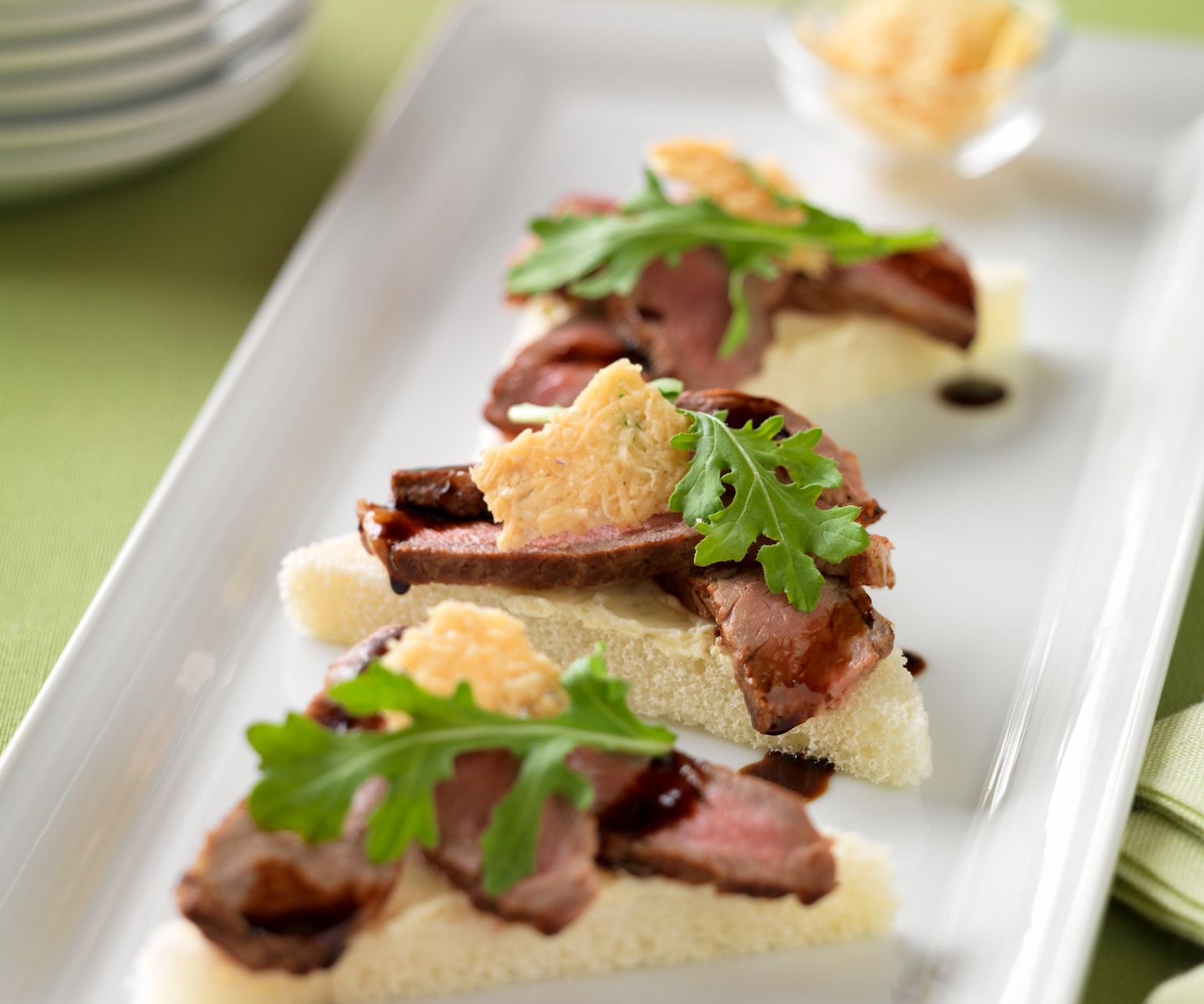 Preparation
Step 1

Heat oven to 350°F. Combine Parmesan cheese and flour in small bowl; toss to mix well. Spray baking sheet with nonstick cooking spray. Sprinkle Parmesan mixture evenly into 8-inch circle on baking sheet. Bake in center of 350°F oven 6 to 8 minutes or until melted and light brown. Cool 2 minutes on baking sheet, then remove to wire rack to cool completely. Break into 24 irregular-shaped pieces. Set aside.

Cooking Tip: Parmesan crisps may be made 1 day in advance and stored in an airtight container.

Step 2

Cut each bread slice diagonally in half. Place in single layer on baking sheet. Bake in 350°F oven about 6 minutes or until lightly toasted but not brown. Set aside.

Step 3

Press pepper evenly onto beef steaks. Heat large nonstick skillet over medium heat until hot. Place steaks in skillet; cook top loin steaks 12 to 15 minutes for medium rare (145°F) to medium (160°F) doneness, turning occasionally. Carve steaks into thin slices.

Cooking Tip: Four beef Tenderloin steaks (about 4 ounces each), cut 1 inch thick may be substituted for Strip steaks. Pan-broil Tenderloin steaks 10 to 13 minutes for medium rare to medium doneness, turning occasionally.

Step 4

Meanwhile, spread 1 teaspoon cheese spread onto each bread piece; top with 2 to 3 steak slices. Drizzle balsamic syrup over beef; top with Parmesan crisp and arugula leaf.

Cooking Tip: Balsamic syrup is available in the dressing aisle next to the vinegars in large supermarkets and specialty stores. If balsamic syrup is not available, it can be prepared by combining 3/4 cup balsamic vinegar and 2 tablespoons molasses in medium saucepan; bring to a boil. Reduce heat to medium-high; cook about 10 minutes or until mixture is reduced to 1/4 cup. Balsamic syrup may be stored in an airtight container in the refrigerator.
Nutrition Information
Nutrition information per serving: 150 Calories; 52.2 Calories from fat; 5.8g Total Fat (2.8 g Saturated Fat; 0.2 g Trans Fat; 0.4 g Polyunsaturated Fat; 1.6 g Monounsaturated Fat;) 40 mg Cholesterol; 187 mg Sodium; 9 g Total Carbohydrate; 0.6 g Dietary Fiber; 2.1 g Total Sugars; 14.5 g Protein; 76.1 mg Calcium; 2 mg Iron; 180 mg Potassium; 0.2 mg Riboflavin; 5.1 mg NE Niacin; 0.3 mg Vitamin B6; 1.7 mcg Vitamin B12; 121 mg Phosphorus; 1.8 mg Zinc; 13.6 mcg Selenium; 31.1 mg Choline.
Nutrition Tip
This recipe is an excellent source of Protein, Niacin, Vitamin B12, and Selenium; and a good source of Iron, Riboflavin, Vitamin B6, and Zinc.