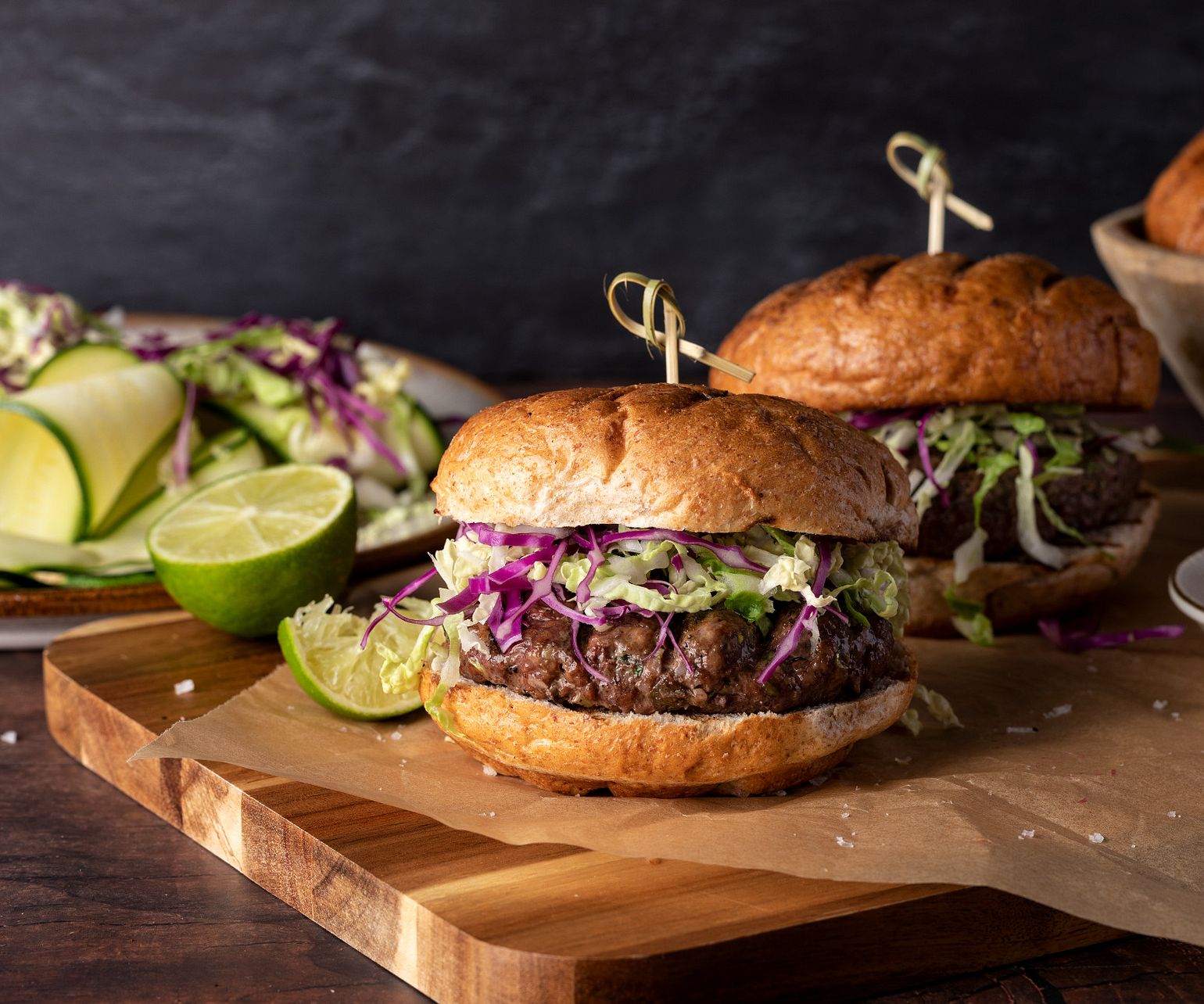 Preparation
Step 1

Combine cabbage and 1 tablespoon lime juice in medium bowl; set aside.

Step 2

Combine Ground Beef, green onion, ginger and chili sauce in medium bowl, mixing lightly but thoroughly. Lightly shape into four 1/2-inch thick patties.

Cooking Tip: Hot chili sauce, an Asian condiment made from red chilies, garlic and vinegar, imparts a tangy, spicy heat to dishes. Hot chili sauce is available in Asian markets and the Asian section of most supermarkets.

Step 3

Heat nonstick skillet over medium heat until hot. Place patties in skillet; cook 10 to 12 minutes until instant-read thermometer inserted horizontally into center registers 160°F, turning occasionally. Season with salt and pepper, as desired.

Cooking Tip: Cooking times are for fresh or thoroughly thawed Ground Beef. Ground Beef should be cooked to an internal temperature of 160°F. Color is not a reliable indicator of Ground Beef doneness.

Step 4

Meanwhile, combine peanut butter, hoisin sauce, remaining 1 tablespoon lime juice and sesame oil in small bowl. Cover and refrigerate until ready to use.

Step 5

Place 1 burger on bottom half of each bun; top evenly with peanut butter mixture and cabbage mixture. Close sandwiches.
Nutrition Information
Nutrition information per serving using 93% lean ground beef: 354 Calories; 117.9 Calories from fat; 13.1g Total Fat (4.3 g Saturated Fat; 0.2 g Trans Fat; 2.2 g Polyunsaturated Fat; 5.2 g Monounsaturated Fat;) 84 mg Cholesterol; 380 mg Sodium; 28 g Total Carbohydrate; 1.2 g Dietary Fiber; 6 g Total Sugars; 31 g Protein; 0.2 g Added Sugars; 96.3 mg Calcium; 4.8 mg Iron; 539 mg Potassium; 0 mcg Vitamin D; 0.3 mg Riboflavin; 8.7 mg NE Niacin; 0.5 mg Vitamin B6; 2.9 mcg Vitamin B12; 286 mg Phosphorus; 6.9 mg Zinc; 33.4 mcg Selenium; 105.7 mg Choline.
Nutrition Tip
This recipe is an excellent source of Protein, Iron, Riboflavin, Niacin, Vitamin B6, Vitamin B12, Phosphorus, Zinc, and Selenium; and a good source of Potassium, and Choline.