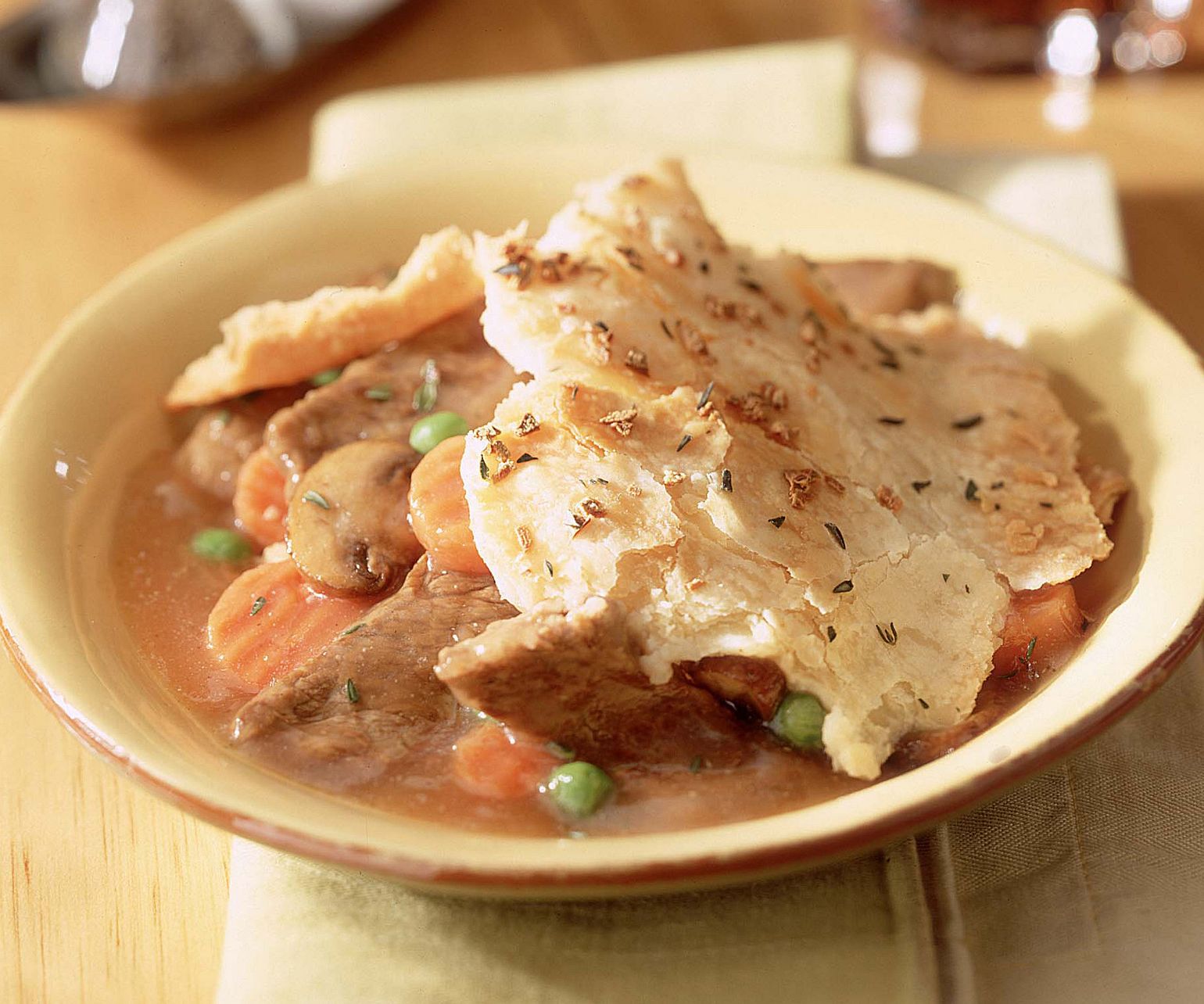 Preparation
Step 1

Heat oven to 425°F. Cut beef Flat Iron Steaks lengthwise in half, then crosswise into 1/4-inch thick strips. Spray large nonstick skillet with nonstick cooking spray. Heat over medium-high heat until hot. Add mushrooms; cook and stir 3 minutes. Add carrots, peas, 1 teaspoon thyme and 1/2 teaspoon garlic; cook and stir an additional 3 to 4 minutes or until carrots and peas are defrosted. Remove from skillet; set aside.

Step 2

In same skillet, add 1/2 of beef; cook and stir 1 to 2 minutes or until outside surface of beef is no longer pink. Season with salt and pepper, as desired. Remove from skillet with slotted spoon; set aside. Repeat with remaining beef.

Step 3

Dissolve cornstarch into beef broth; add to skillet. Bring to a boil; cook and stir about 1 minute or until sauce is slightly thickened and any browned bits on bottom of skillet are dissolved. Return vegetables and beef to pan; stir to combine.

Cooking Tip: For a richer-flavored sauce, remove skillet from stovetop and add 1/4 cup Irish whiskey to skillet. Return skillet to heat; add the beef broth mixture. Cook and stir about 1 to 2 minutes or until any browned bits on bottom of skillet are dissolved.

Step 4

Place beef mixture in 2-inch deep, 9-inch pie plate or similar sized round baking dish. Unroll pie crust on flat surface, pressing out lines with fingers, if necessary. Place crust over beef mixture allowing edges to drape over pie plate. Sprinkle remaining 1 teaspoon thyme and 1/2 teaspoon garlic evenly onto top of crust. Place pie plate on 15-1/2 x 10-1/2 x 1-inch jelly-roll pan. Bake in 425°F oven 16 to 18 minutes or until crust is golden. Remove from oven to wire rack; let cool 5 to 10 minutes before serving.
Nutrition Information
Nutrition information per serving: 402 Calories; 162 Calories from fat; 18g Total Fat ) 58 mg Cholesterol; 490 mg Sodium; 31 g Total Carbohydrate; 27 g Protein; 3.5 mg Iron; 5.8 mg NE Niacin; 0.5 mg Vitamin B6; 3 mcg Vitamin B12; 8.2 mg Zinc.
Nutrition Tip
This recipe is an excellent source of Protein, Niacin, Vitamin B6, Vitamin B12, and Zinc; and a good source of Iron.