Sous Vide Teriyaki Beef Noodle Bowl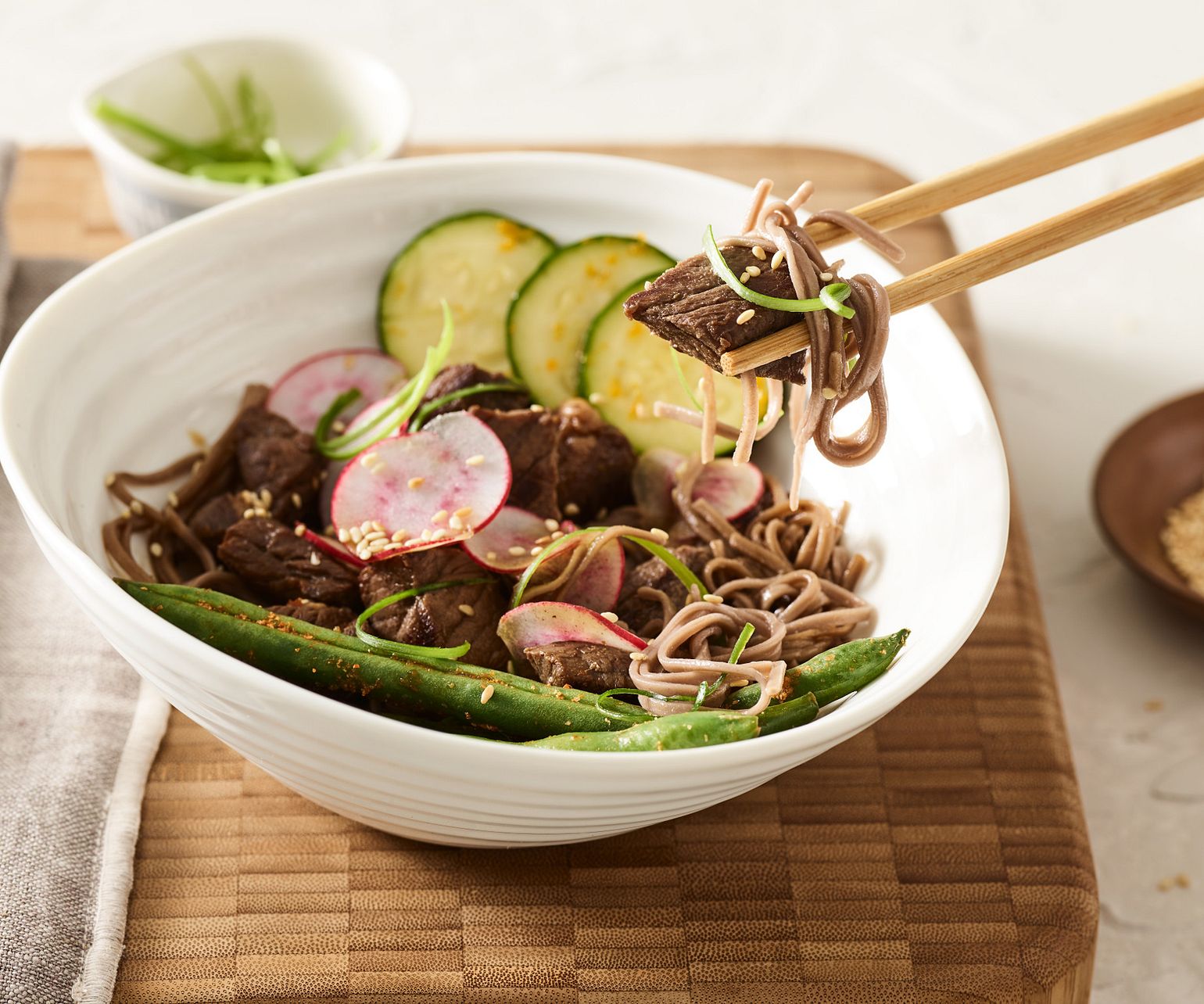 1 HRS 30 MINS
Time to Cook
Ingredients
Green Beans (optional):
Truffle Orange Zucchini (optional):
Preparation
Green Beans (optional):
Step 1

Attach sous vide wand to stock pot. Fill pot with water according to manufacturer's instructions.

Step 2

Preheat wand to 141°F.

Step 3

Place steak pieces and 2 tablespoons teriyaki sauce in a food-safe plastic bag; toss to coat. Seal bag, removing as much air as possible.

Cooking Tip: For best results use a vacuum sealer.

Step 4

Submerge bag in water. Set timer for 1 to 1-1/2 hours. 

Step 5

At end of cooking time, carefully remove bag from pot.

Step 6

Preheat large skillet over medium heat. Remove steak pieces from the bag; discard bag and teriyaki sauce. Toss steak in reserved teriyaki sauce. Cook 2 to 3 minutes until internal temperature reaches 145°F.

Step 7

Divide noodles evenly into bowls. Top with beef, radishes, onions, sesame seeds. Green beans and zucchini may be added as desired.

Cooking Tip: Green beans and zucchini can be made ahead and held, refrigerated, until ready to use for up to 1 week. Green beans may be served warm or cold.

Step 8

Place green beans, red pepper, chile sauce, garlic powder, onion powder and salt in plastic bag; seal. Submerge in sous vide vessel set at 183°F for 45 minutes to 1 hour to desired tenderness.
Truffle Orange Zucchini (optional):
Step 1

Place zucchini (in single layer), soy sauce, zest, juice, garlic and oils in plastic bag; seal. Refrigerate 1 hour or overnight.
Nutrition Information
Nutrition information per serving, 3/4 cups beef and noodles: 263 Calories; 42.3 Calories from fat; 4.7g Total Fat (1.5 g Saturated Fat; 0.2 g Trans Fat; 0.8 g Polyunsaturated Fat; 2 g Monounsaturated Fat;) 73 mg Cholesterol; 772 mg Sodium; 24 g Total Carbohydrate; 1.1 g Dietary Fiber; 28.5 g Protein; 0 mg Calcium; 3.6 mg Iron; 428 mg Potassium; 0.3 mg Riboflavin; 8 mg NE Niacin; 0.8 mg Vitamin B6; 2 mcg Vitamin B12; 308 mg Phosphorus; 4.7 mg Zinc; 30.7 mcg Selenium; 82.1 mg Choline.
Nutrition Tip
This recipe is an excellent source of Protein, Riboflavin, Niacin, Vitamin B6, Vitamin B12, Phosphorus, Zinc, and Selenium; and a good source of Choline.