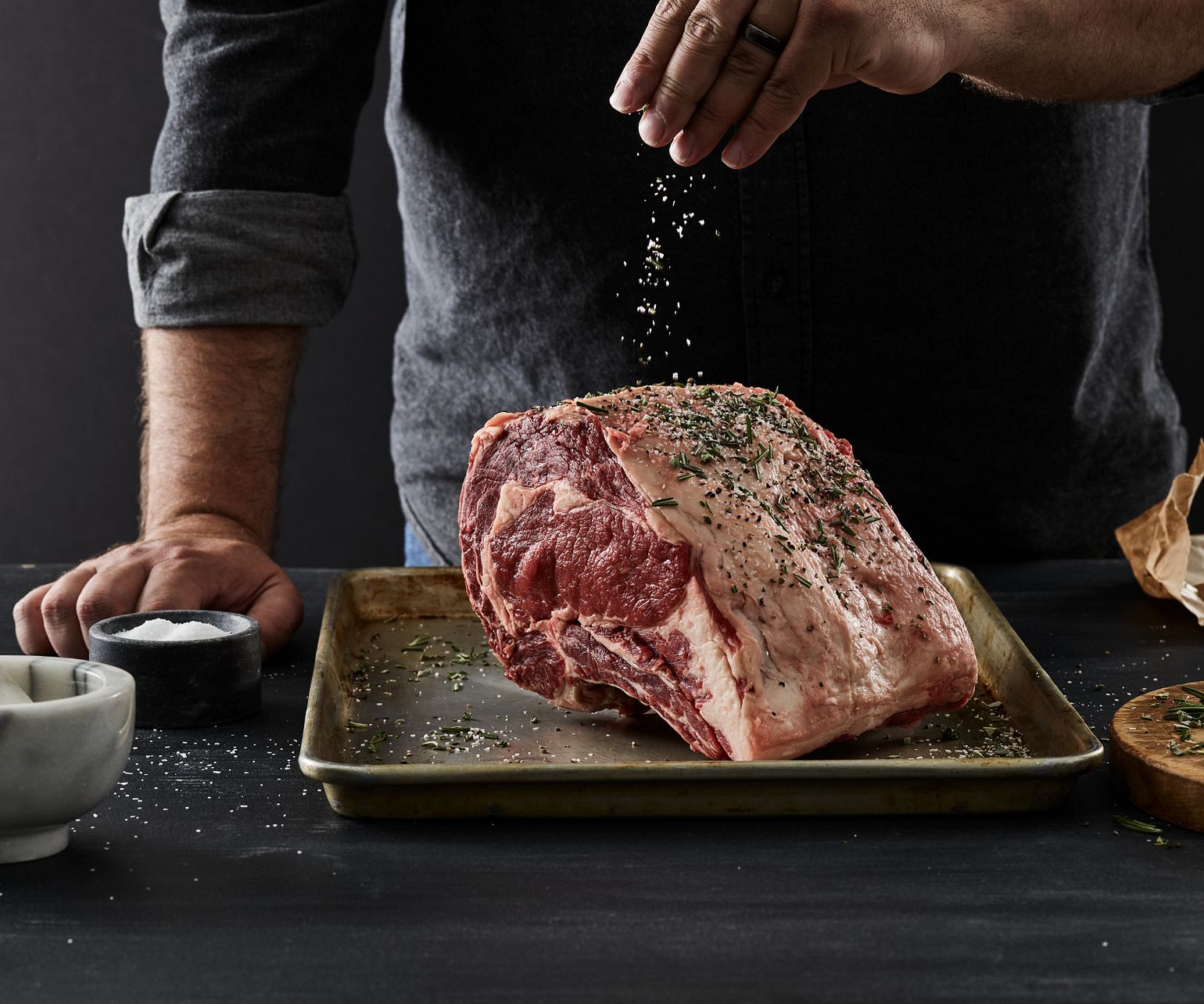 7 HRS 15 MINS
Time to Cook
Ingredients
Herb Paste:
Garnish:
Preparation
Step 1

Combine oil, salt, pepper, rosemary, thyme and sage in small bowl to form a paste. Spread evenly onto all surfaces of beef Ribeye Roast. 

Step 2

Add wood chunks, chips or pellets to smoker according to manufacturer's instructions. Preheat smoker to 225°F.

Step 3

Insert ovenproof meat thermometer so tip is centered in thickest part of roast, not resting in fat or touching bone. Place roast in smoker, rib side down according to manufacturer's instructions. Set timer for 6 hours depending on desired smoke flavor. Smoke roast 4 to 6 hours for medium doneness. Carefully remove roast from smoker when meat thermometer registers 135°F. 

Step 4

Preheat oven to 350°F. Place roast, fat-side up, in shallow roasting pan for 30 minutes to 1 hour. Remove roast when meat thermometer registers 140°F for medium rare; 155°F for medium. Transfer roast to carving board; tent loosely with aluminum foil. Let stand 15 to 20 minutes. (Temperature will continue to rise about 5°F to reach 145°F for medium rare; 160°F for medium.)

Step 5

Carve roast into slices between ribs. For thinner slices, remove ribs then carve. Season roast with salt and parsley, as desired.
Nutrition Information
Nutrition information per serving, 3 to 5 ounces: 327 Calories; 167.4 Calories from fat; 18.6g Total Fat (6.7 g Saturated Fat; 0.8 g Trans Fat; 1.2 g Polyunsaturated Fat; 9 g Monounsaturated Fat;) 112 mg Cholesterol; 559 mg Sodium; 0.4 g Total Carbohydrate; 0.2 g Dietary Fiber; 40 g Protein; 0 mg Calcium; 3.1 mg Iron; 467 mg Potassium; 0.4 mg Riboflavin; 8.2 mg NE Niacin; 0.8 mg Vitamin B6; 3.3 mcg Vitamin B12; 250 mg Phosphorus; 10 mg Zinc; 49.7 mcg Selenium; 78.3 mg Choline.
Nutrition Tip
This recipe is an excellent source of Protein, Riboflavin, Niacin, Vitamin B6, Vitamin B12, Zinc, and Selenium; and a good source of Iron, and Choline.