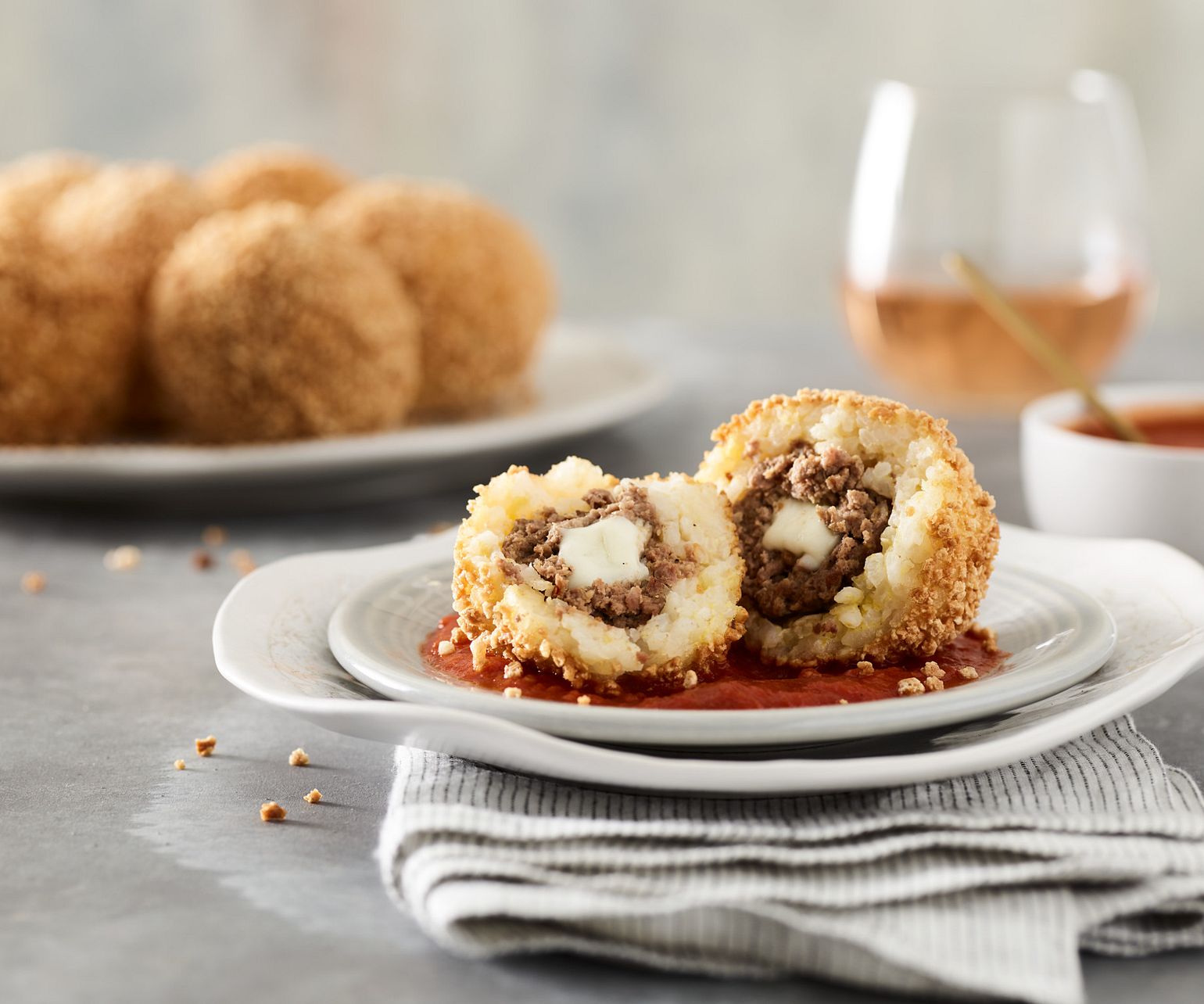 Preparation
Step 1

Preheat oven to 400°F. Combine Italian-Style Beef Sausage mixture, bread crumbs, onion, 1 egg and basil in large bowl; mixing thoroughly. Shape into 24, 1-inch meatballs. Place a mozzarella ball in the middle of each meatball, making sure the mozzarella ball is completely covered with the beef mixture. Place meatballs on aluminum-foiled lined broiler rack coated with cooking spray. Bake in 400°F oven 18 to 20 minutes until internal temperature reaches 165°F. Cool slightly.

Cooking Tip:

Italian-Style Beef Sausage

: Combine 1 pound Ground Beef (80

% lean or leaner), 1 teaspoon fennel seed, 1/2 teaspoon salt, 1/4 teaspoon ground coriander, 1/4 teaspoon garlic powder, 1/4 teaspoon paprika, 1/4 teaspoon black pepper and 1/8 to 1/4 teaspoon crushed red pepper in large bowl, mixing lightly



.

Step 2

Divide risotto into 24 balls (about 2 tablespoons each). Flatten each risotto ball into a disc and wrap around each meatball, ensuring meatball is completely covered. Beat remaining egg in small shallow bowl. Place panko bread crumbs in separate shallow bowl. Dip each risotto covered meatball in egg and then cover with Panko. 

Step 3

Heat oil (minimum of 3 inches) in medium or large sauce pan to 375°F. Fry Arancini 2 or 3 at a time in hot oil about 5 minutes each until cooked through and golden brown; remove with slotted spoon and drain on paper towel-lined plate. Serve with marinara sauce and Parmesan, as desired.

Cooking Tip: You can substitute gluten-free bread crumbs and Panko to make these Arancini gluten-free.
Nutrition Information
Nutrition information per serving, 1 arancini ball: 195 Calories; 110.7 Calories from fat; 12.3g Total Fat (5.7 g Saturated Fat; 0 g Trans Fat; 1.5 g Polyunsaturated Fat; 1.7 g Monounsaturated Fat;) 51 mg Cholesterol; 180 mg Sodium; 10 g Total Carbohydrate; 0.4 g Dietary Fiber; 11.6 g Protein; 133 mg Calcium; 0.8 mg Iron; 30.8 mg Potassium; 0.1 mg Riboflavin; 0.4 mg NE Niacin; 0.1 mg Vitamin B6; 0.5 mcg Vitamin B12; 38 mg Phosphorus; 1.3 mg Zinc; 6.4 mcg Selenium; 26.4 mg Choline.
Nutrition Tip
This recipe is an excellent source of Protein, and Vitamin B12; and a good source of Calcium, Zinc, and Selenium.