Shaved Beef Salad with Cabbage, Cashews, Lime and Chiles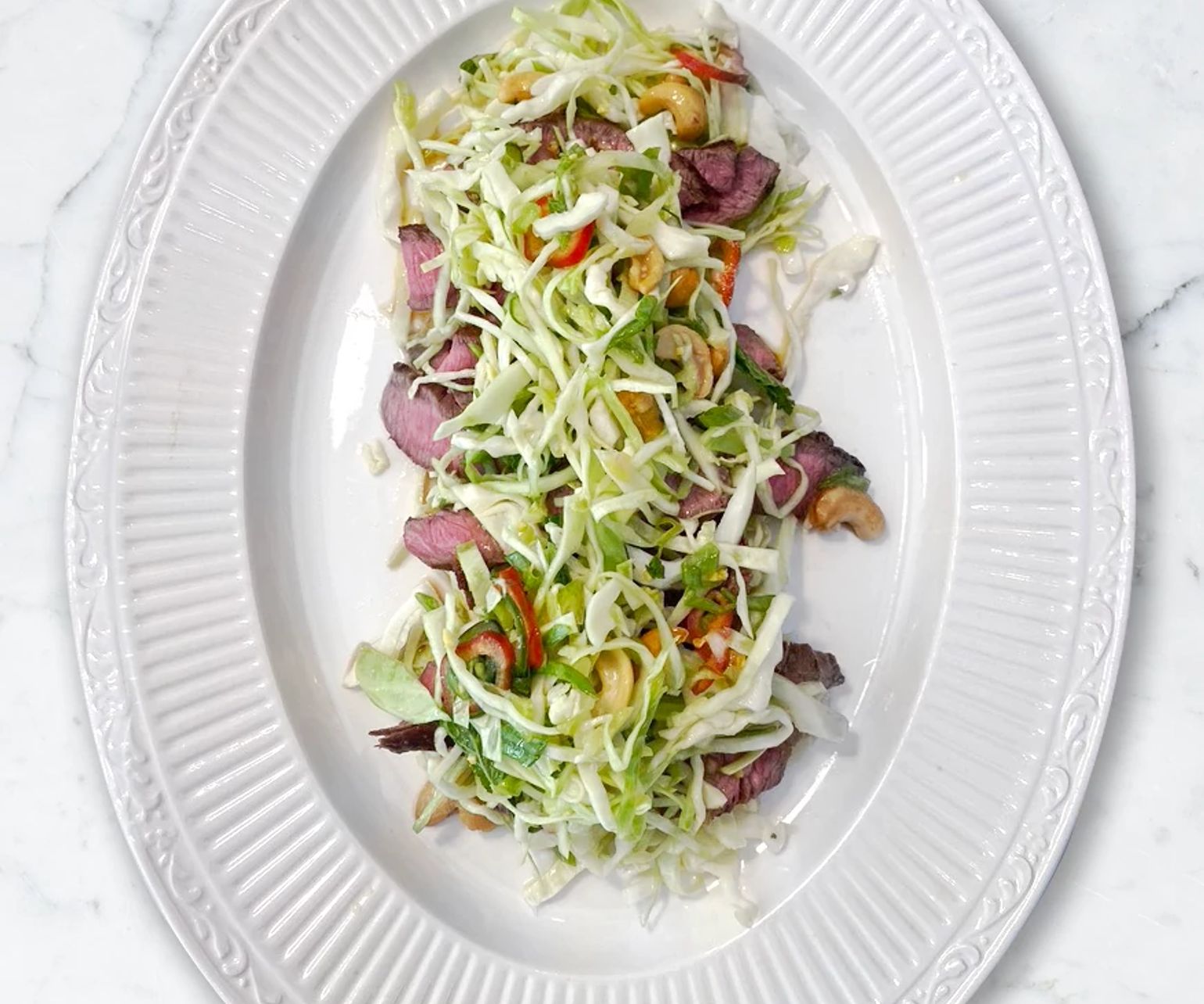 Ingredients
Vinaigrette
Beef Salad
Preparation
Step 1

Combine all vinaigrette ingredients in a jar and shake vigorously. Set aside.

Step 2

Place the shaved cabbage in a bowl and add 1 teaspoon of the kosher salt. Toss well and set aside.

Step 3

Place the steak in a baking dish and season with the remaining salt.

Step 4

Place a large cast iron pan over medium high heat and when hot, add the vegetable oil. Add the steak to the pan and cook for approximately 4 minutes per side, for a total of 8 minutes to medium, or until the internal temperature reaches 145°F. Remove the steak and place on a cooling rack for it to rest for five to ten minutes.

Step 5

Slice the steak against the grain, very thinly and place on a platter. Dress with half of the vinaigrette. Add the scallions, chilis and cashews to the cabbage. Add the remaining vinaigrette to the cabbage and toss well. Scatter the salad over the steak and serve.
Nutrition Information
Nutrition information per serving, (no serving size): 328 Calories; 216 Calories from fat; 24g Total Fat (5.7 g Saturated Fat; 0.3 g Trans Fat; 2.8 g Polyunsaturated Fat; 13.4 g Monounsaturated Fat;) 54 mg Cholesterol; 1496 mg Sodium; 11 g Total Carbohydrate; 2.7 g Dietary Fiber; 4.3 g Total Sugars; 19 g Protein; 0.3 g Added Sugars; 54.8 mg Calcium; 3.2 mg Iron; 493 mg Potassium; 0.3 mg Riboflavin; 5.3 mg NE Niacin; 0.4 mg Vitamin B6; 3.8 mcg Vitamin B12; 210 mg Phosphorus; 6.6 mg Zinc; 26.3 mcg Selenium; 85.6 mg Choline.
Nutrition Tip
This recipe is an excellent source of Protein, Riboflavin, Niacin, Vitamin B6, Vitamin B12, Zinc, and Selenium; and a good source of Iron, Potassium, Phosphorus, and Choline.