Savory Beef Brunch Waffles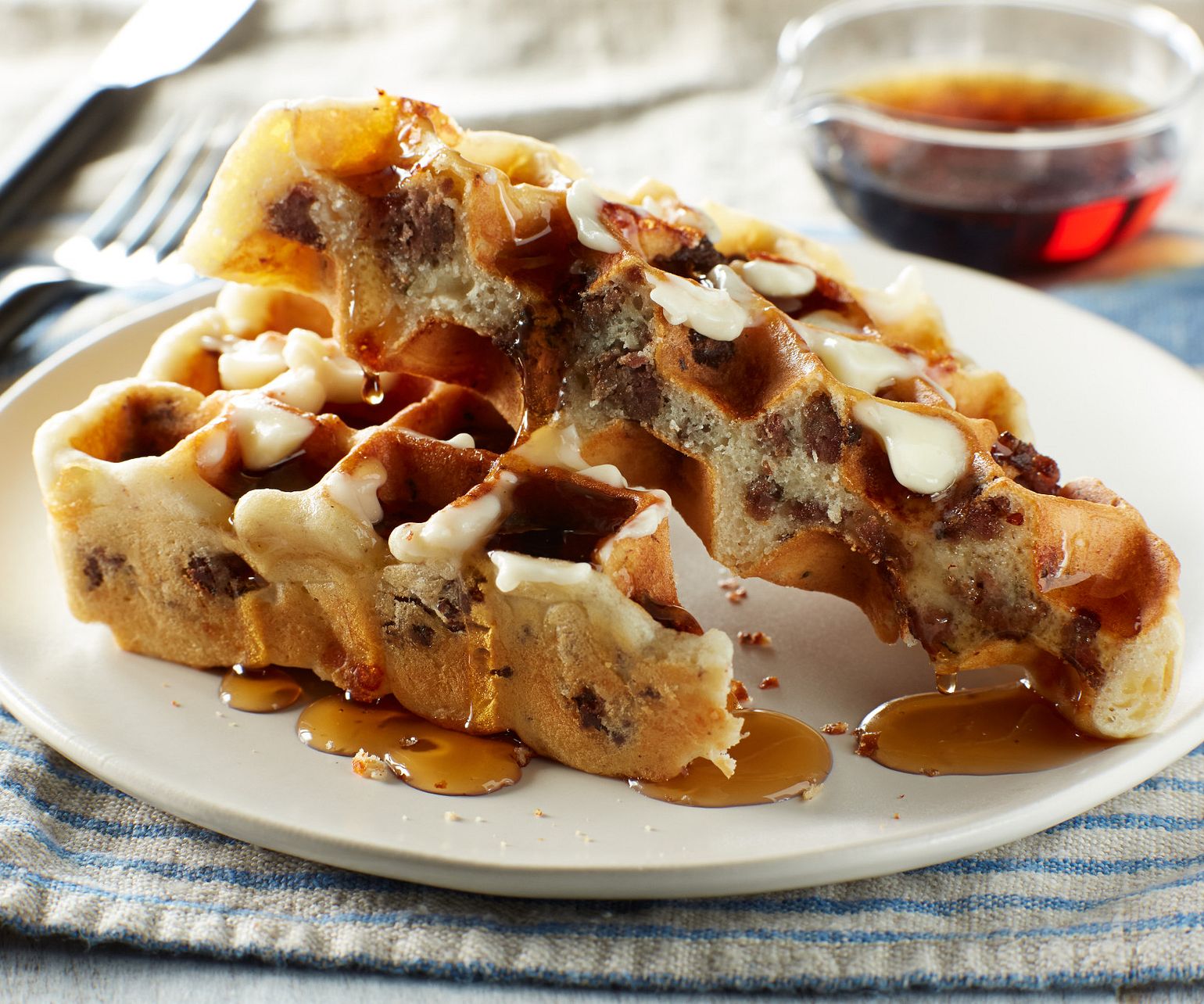 Ingredients
Toppings (optional):
Preparation
Step 1

Prepare Basic Country Beef Breakfast Sausage.  Set aside.  Whisk together baking mix, egg, milk and vegetable oil in large bowl until smooth. Stir in cheese and sausage. Country-Style Beef Breakfast Sausage: Combine 1 pound Ground Beef (93% or leaner), 2 teaspoons chopped fresh sage or 1/2 teaspoon rubbed sage, 1 teaspoon garlic power, 1 teaspoon onion power, 1/2 teaspoon salt and 1/4 to 1/2 teaspoon crushed red pepper in large bowl, mixing lightly but thoroughly.  Heat large nonstick skillet over medium heat until hot.  Add sausage mixture; cook 8 to 10 minutes, breaking into 1/2-inch crumbles, stirring occasionally.

Cooking Tip: Cooking times are for fresh or thoroughly thawed ground beef. Ground beef should be cooked to an internal temperature of 160°F. Color is not a reliable indicator of ground beef doneness.

Step 2

Preheat waffle iron according to manufacturer's directions.  Place 1/2 cup waffle batter in waffle iron for each waffle and cook for 4 to 6 minutes or until waffles are golden brown.  Top with toppings, if desired.

Cooking Tip:

Place leftover waffles in a single-layer in a food-safe plastic bag; close bag securely and store in refrigerator or freezer. To reheat refrigerated waffle, place waffle in a toaster and toast 4 to 6 minutes or until waffle is heated through.  Frozen waffle can be reheated in a 350°F oven 15 minutes, or in a toaster 5 to 6 minutes.
Nutrition Information
Nutrition information per serving: 292 Calories; 135.9 Calories from fat; 15.1g Total Fat (4.8 g Saturated Fat; 1.2 g Trans Fat; 2.4 g Polyunsaturated Fat; 3.3 g Monounsaturated Fat;) 73 mg Cholesterol; 625 mg Sodium; 23 g Total Carbohydrate; 0.1 g Dietary Fiber; 19 g Protein; 141 mg Calcium; 2.4 mg Iron; 298 mg Potassium; 0.7 mcg Vitamin D; 0.3 mg Riboflavin; 4.4 mg NE Niacin; 0.2 mg Vitamin B6; 1.7 mcg Vitamin B12; 198 mg Phosphorus; 3.7 mg Zinc; 15.8 mcg Selenium; 73.1 mg Choline.
Nutrition Tip
This recipe is an excellent source of Protein, Riboflavin, Niacin, Vitamin B12, Zinc, and Selenium; and a good source of Calcium, Iron, Vitamin B6, Phosphorus, and Choline.