Mushroom Swiss Burger with Jalapeno Aioli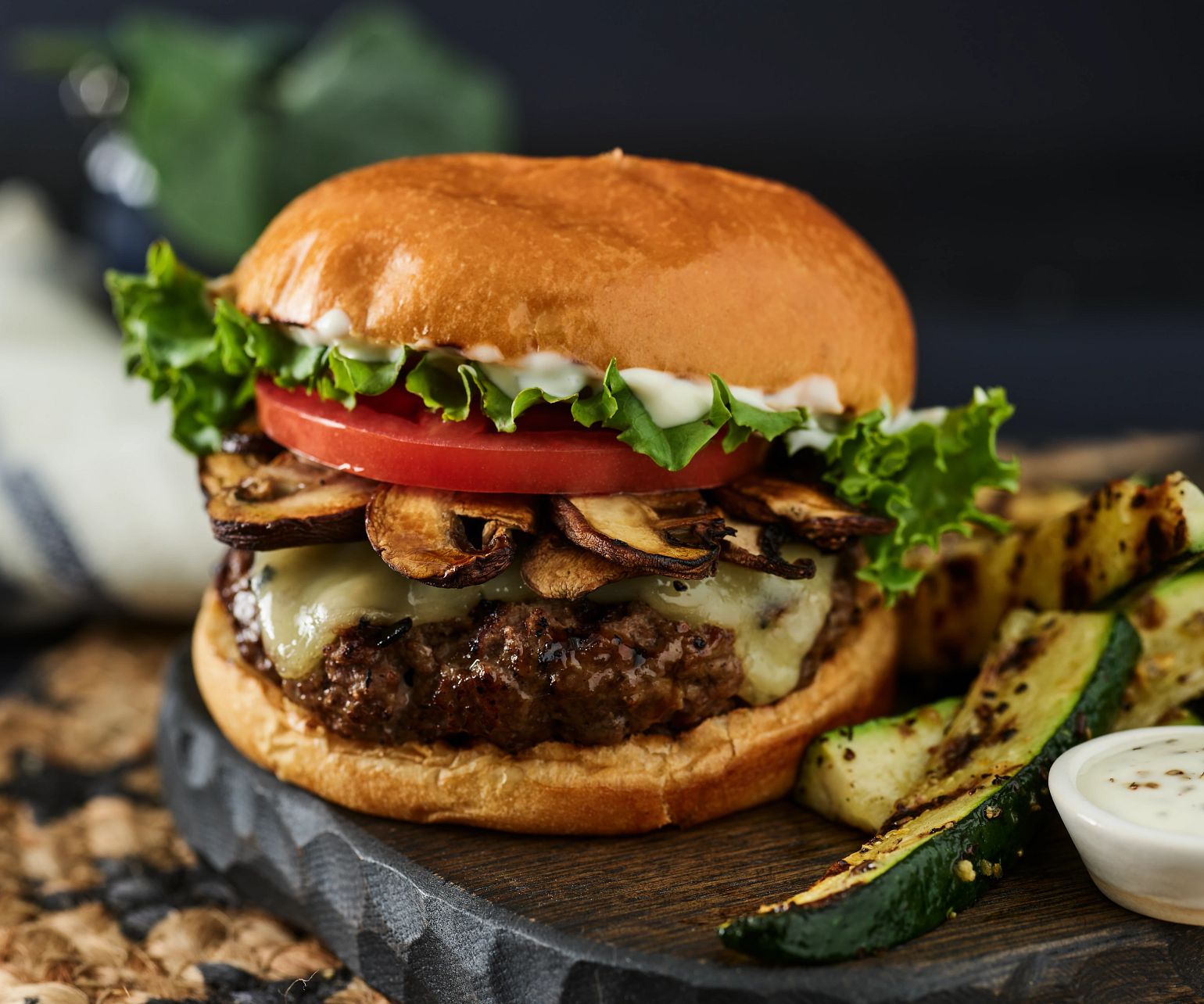 Ingredients
Jalapeno Aioli
Zucchini Fries
Preparation
Jalapeno Aioli
Step 1

Combine Ground Beef and 2 tsp. steak seasoning in large bowl, mixing lightly but thoroughly. Lightly shape into four 1/2-inch thick patties. Set aside 

Step 2

Heat sauté pan over medium until hot. Add olive oil and mushrooms, Cook over medium heat for 4 to 5 minutes stirring occasionally. Remove from heat and set aside.     

Step 3

Place patties on grid over medium, ash-covered coals. Grill, covered, 8 to 10 minutes (over medium heat on preheated gas grill, 7 to 9 minutes) until instant-read thermometer inserted horizontally into center registers 160°F, turning occasionally. About 2 minutes before burgers are done, place buns, cut sides down, on grid. Grill until lightly toasted. During last minute of grilling, top each burger with cheese slice.

Step 4

Place jalapeno on grid over medium, ash-covered coals. Grill for 5 to 6 minutes (over medium heat on preheated gas grill). Remove from grill and let cool. Once cool remove the stem and seeds, dice into 1/4 inch cubes.  

Step 5

In a medium size bowl combine mayo, grilled jalapeno, lime juice, and salt. Set aside 
Zucchini Fries
Step 1

Cut zucchini in half and again lengthwise, then cut in 4 inch strips and place into a medium sized bowl. Coat zucchini with 1 Tbsp. olive oil, 1/2 tsp steak seasoning and toss. Place zucchini on the grill and cook for 4 to 6 minutes turning occasionally. Once soft remove from grill and set aside.   
Burger Build
Step 1

Line top bun with 1 - 2 Tbsp. of Aioli mixture, Lettuce, and tomato. Top each burger with mushrooms and place them on bottom buns. Close the sandwiches and serve with zucchini fries.
Nutrition Information
Nutrition information per serving, 1 burger: 495 Calories; 247.5 Calories from fat; 27.5g Total Fat (10 g Saturated Fat; 0.3 g Trans Fat; 5.1 g Polyunsaturated Fat; 9.8 g Monounsaturated Fat;) 104 mg Cholesterol; 738 mg Sodium; 27 g Total Carbohydrate; 1.9 g Dietary Fiber; 5.4 g Total Sugars; 36 g Protein; 0 g Added Sugars; 343 mg Calcium; 4.6 mg Iron; 727 mg Potassium; 0.1 mcg Vitamin D; 0.5 mg Riboflavin; 5.9 mg NE Niacin; 0.5 mg Vitamin B6; 3.1 mcg Vitamin B12; 449 mg Phosphorus; 7.4 mg Zinc; 45.6 mcg Selenium; 98.8 mg Choline.
Nutrition Tip
This recipe is an excellent source of Protein, Calcium, Iron, Riboflavin, Niacin, Vitamin B6, Vitamin B12, Phosphorus, Zinc, and Selenium; and a good source of Potassium, and Choline.