Mini Meatballs with Apricot Dipping Sauce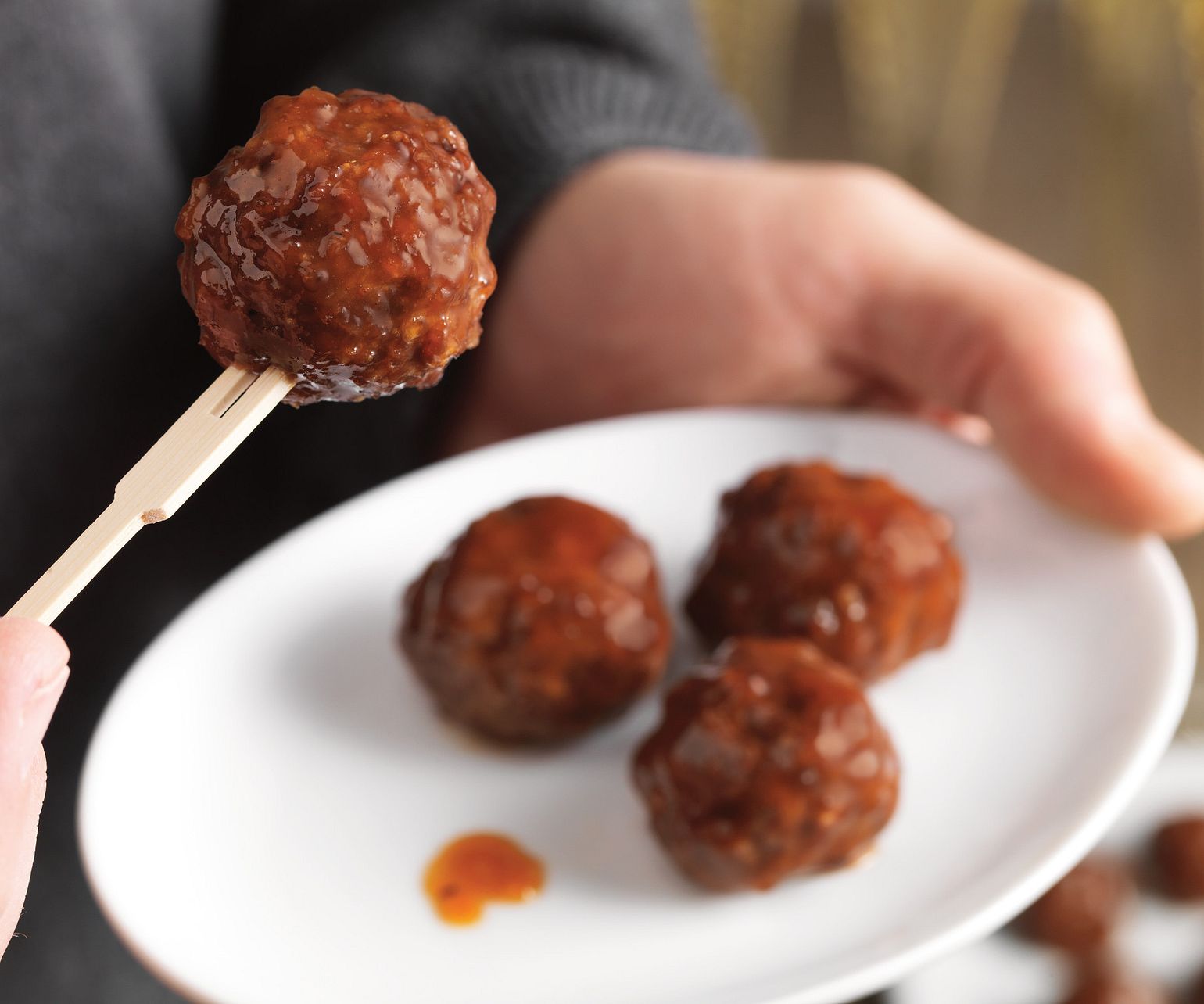 Ingredients
Apricot Dipping Sauce:
Preparation
Step 1

Heat oven to 400°F. Combine Ground Beef, bread crumbs, egg whites, water, salt and pepper in large bowl, mixing lightly but thoroughly. Shape into 24 1-inch meatballs. Place on rack in broiler pan that has been sprayed with cooking spray. Bake in 400°F oven 18 to 20 minutes.

Cooking Tip: Cooking times are for fresh or thoroughly thawed Ground Beef. Ground Beef should be cooked to an internal temperature of 160°F. Color is not a reliable indicator of Ground Beef doneness.

Step 2

Meanwhile, heat preserves, barbecue sauce and mustard in medium saucepan over medium heat. Bring to a boil; reduce heat; simmer, uncovered, 3 to 5 minutes, stirring occasionally or until sauce thickens slightly.

Cooking Tip: Red or black raspberry, fig, peach, current or pineapple preserves and orange marmalade may be substituted for apricot preserves.

Step 3

Add cooked meatballs and continue to cook 2 to 3 minutes or until meatballs are heated through, stirring occasionally. Serve warm.

Cooking Tip: To keep meatballs warm, place in 2-1/2-quart slow cooker set on LOW. Keep covered to maintain heat. Meatballs can be held up to 2-1/2 hours, stirring occasionally.
Nutrition Information
Nutrition information per serving: 74 Calories; 11.7 Calories from fat; 1.3g Total Fat (0.5 g Saturated Fat; 0 g Trans Fat; 0.1 g Polyunsaturated Fat; 0.5 g Monounsaturated Fat;) 20 mg Cholesterol; 177 mg Sodium; 11 g Total Carbohydrate; 0 g Dietary Fiber; 7 g Total Sugars; 5 g Protein; 0 g Added Sugars; 10 mg Calcium; 0.7 mg Iron; 99 mg Potassium; 0 mcg Vitamin D; 0.1 mg Riboflavin; 1.2 mg NE Niacin; 0.1 mg Vitamin B6; 0.4 mcg Vitamin B12; 46 mg Phosphorus; 1.1 mg Zinc; 4.3 mcg Selenium; 20.2 mg Choline.
Nutrition Tip
This recipe is a good source of Protein, Vitamin B12, and Zinc.