Grilled Carne Asada Chilaquiles Verdes
Recipe Courtesy Of: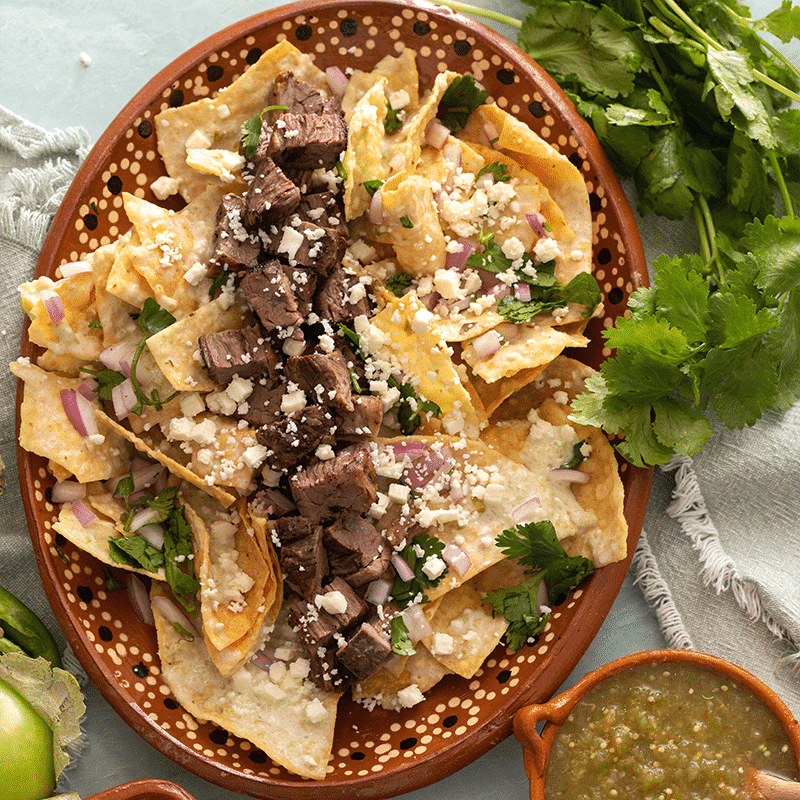 Ingredients
Carne Asada Marinade Ingredients:
Homemade Tortilla Chips Ingredients:
Chilaquiles Ingredients:
Optional Toppings:
Preparation
Step 1

In a large plastic resealable bag, add orange juice, lime juice, garlic, jalapeño, salt, pepper, and vegetable oil. Seal and shake to mix. Place Flank Steak in the plastic bag, seal, and turn the bag to coat the Flank Steak completely. Place on a baking sheet or baking dish in the fridge to marinate for 2 hours to overnight.

Step 2

To make chips, heat ¼ cup oil in a large skillet over MEDIUM-HIGH heat until it simmers. Add about one quarter of the tortilla wedges to the skillet, flipping once, until lightly brown and crisp.

Step 3

Drain the freshly fried tortilla chips on a paper towel-lined baking sheet. Sprinkle lightly with salt. Repeat this process until all tortillas are fried, adding more oil if needed.

Step 4

Heat grill to HIGH heat. Remove Flank Steak from resealable plastic bag and discard remaining marinade. Grill for 5-7 minutes per side or until an instant thermometer reaches 145° F internal temperature for medium rare.

Step 5

Remove steak from the grill, cover loosely with foil, and allow to rest for 10 minutes. Slice against the grain, then dice.

Step 6

To assemble chilaquiles, heat salsa verde and heavy cream in a large skillet over MEDIUM-HIGH heat. Add chips, gently turning to coat. Reduce heat, cover, and simmer for 2 minutes.

Step 7

Top chilaquiles with warm diced carne asada and sprinkle with red onion, cilantro, and queso fresco. Serve with additional salsa verde and additional optional toppings.
Nutrition Information
Nutrition information per serving: 400 Calories; 180 Calories from fat; 20.1 g Total Fat (9.5 g Saturated Fat; 5.3 g Monounsaturated Fat); 103.01 mg Cholesterol; 1059.4 mg Sodium; 25.3 g Total Carbohydrate; 2.3 g Dietary Fiber; 29.2 g Protein; 2.4 mg Iron; 676.6 mg Potassium; 0.14 mg Thiamin; 18.1 mg Riboflavin; 12.5 mg Niacin (NE); 0.7 mg Vitamin B6; 1.3 mcg Vitamin B12; 5.01 mg Zinc; 33.5 mcg Selenium; 111.6 mg Choline.
This recipe is an excellent source of Protein, Niacin (NE), Vitamin B6, Vitamin B12, Zinc and Choline. It is a good source of Thiamin, Riboflavin, Iron and Potassium.