Easy Sheet Pan Meatloaf and Potatoes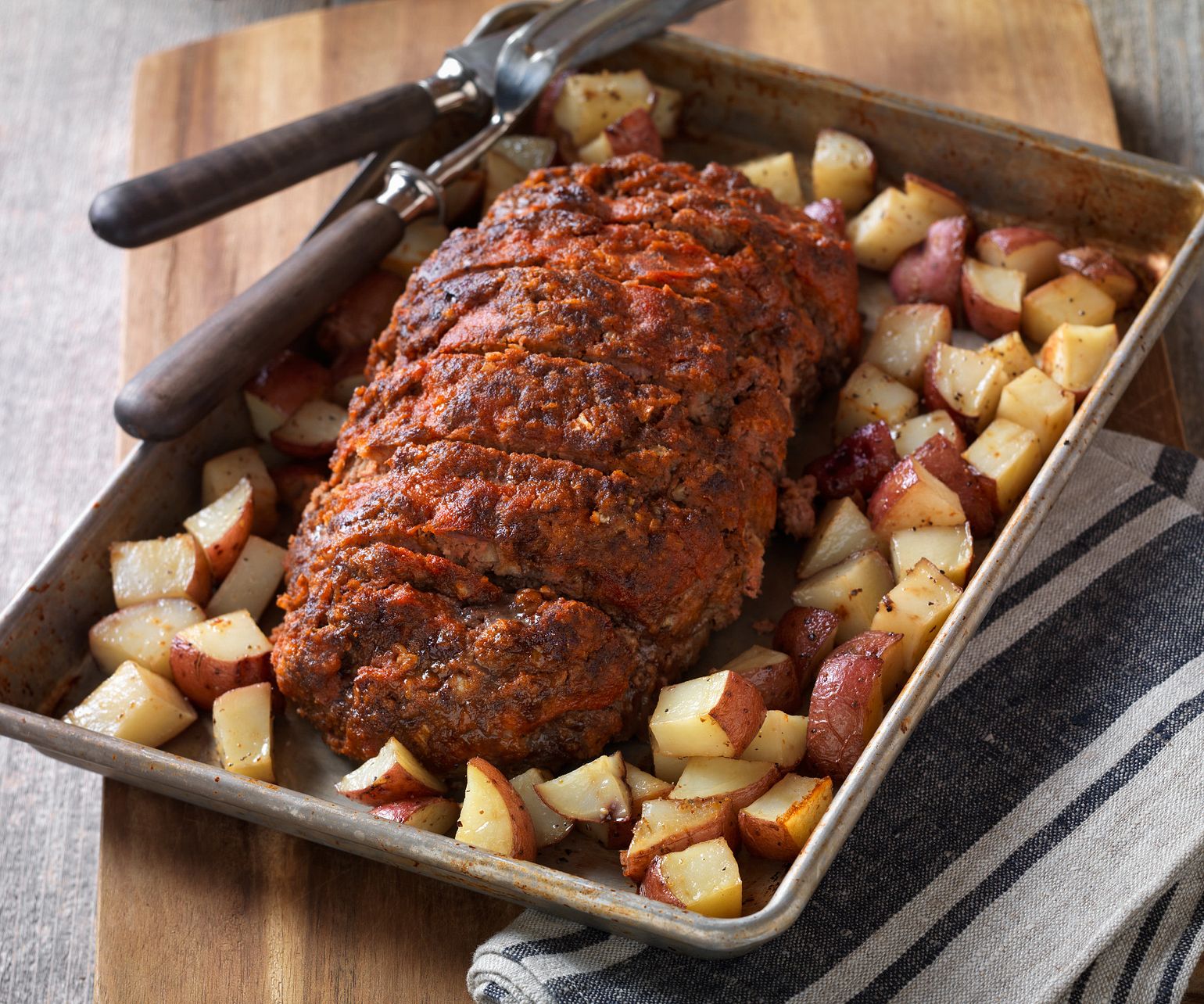 1 HRS 30 MINS
Time to Cook
Preparation
Step 1

Preheat oven to 400°F. Reserve 1/4 cup of tomato sauce; set aside.

Step 2

Combine Ground Beef, remaining tomato sauce, bread crumbs, onion, egg, Worcestershire, thyme, salt and 1/4 teaspoon pepper in large bowl; mixing lightly but thoroughly. Shape beef mixture into 8 x 4 x 2-inch loaf on parchment-lined sheet pan.

Step 3

Toss potatoes with cooking spray, garlic salt and remaining 1/2 teaspoon pepper. Spread potatoes evenly around the meatloaf on the sheet pan.

Step 4

Place sheet pan on the center rack of oven, bake in preheated 400°F oven for 40 minutes. Meanwhile, combine reserved tomato sauce with brown sugar and mustard. Spread sauce evenly over top of meatloaf, stir potatoes and continue cooking another 20 minutes or until instant-read thermometer inserted into center of meatloaf registers 160°F.

Cooking Tip: Cooking times are for fresh or thoroughly thawed ground beef. Ground beef should be cooked to an internal temperature of 160°F. Color is not a reliable indicator of ground beef doneness.

Step 5

Remove meatloaf; let stand 10 minutes before slicing. Test potatoes for doneness and return to oven if needed while meatloaf rests. Cut meatloaf into slices. Serve with potatoes.  Four-Pepper Meatloaf Variation: Prepare meatloaf as above, adding 1/3 cup finely chopped green bell pepper, 1/4 teaspoon ground red pepper and 1/4 teaspoon ground white pepper to ground beef mixture. Picadillo-Style Meatloaf Variation: Prepare meatloaf as above, omitting thyme and adding 1/3 cup finely chopped green bell pepper, 1/4 cup raisins, 1 teaspoon ground cumin and 1/2 teaspoon dried oregano to ground beef mixture.
Nutrition Information
Nutrition information per serving: 383 Calories; 92.7 Calories from fat; 10.3g Total Fat (3.8 g Saturated Fat; 0.1 g Trans Fat; 1.2 g Polyunsaturated Fat; 3.8 g Monounsaturated Fat;) 107 mg Cholesterol; 763 mg Sodium; 44 g Total Carbohydrate; 3.8 g Dietary Fiber; 7.9 g Total Sugars; 29.4 g Protein; 2.8 g Added Sugars; 82 mg Calcium; 5.2 mg Iron; 1189 mg Potassium; 8.5 mcg Vitamin D; 0.3 mg Riboflavin; 9.4 mg NE Niacin; 0.7 mg Vitamin B6; 2.3 mcg Vitamin B12; 334 mg Phosphorus; 6.5 mg Zinc; 27.5 mcg Selenium; 130.5 mg Choline.
Nutrition Tip
This recipe is an excellent source of Protein, Iron, Potassium, Vitamin D, Riboflavin, Niacin, Vitamin B6, Vitamin B12, Phosphorus, Zinc, Selenium, and Choline; and a good source of Dietary Fiber.