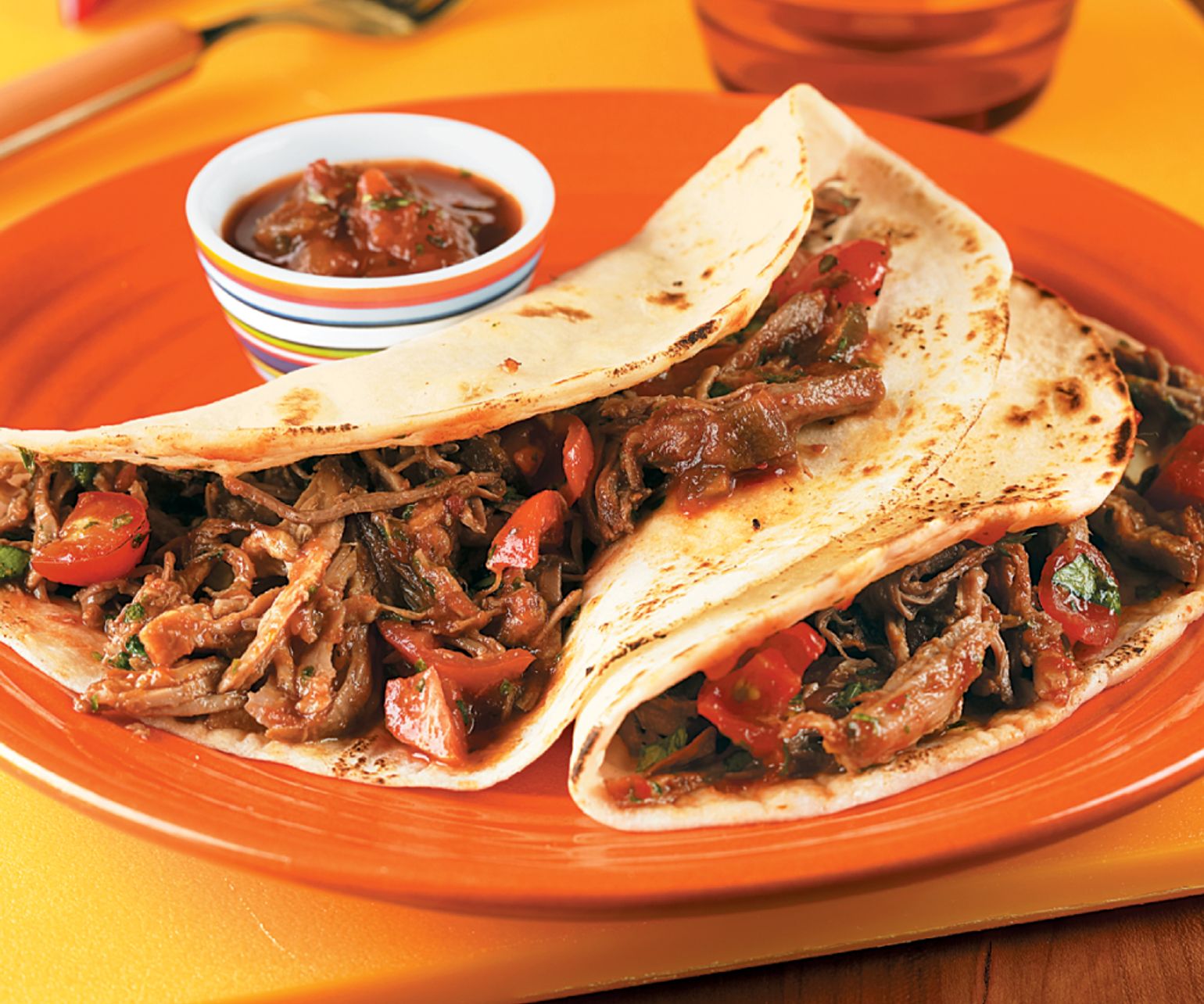 Preparation
Step 1

Heat oil in stockpot over medium heat until hot. Place beef Shoulder Pot Roast in stockpot; brown evenly. Pour off drippings; season with salt and pepper, as desired.

Step 2

Add broth and garlic to stockpot; bring to a boil. Reduce heat; cover tightly and simmer 2-1/4 to 2-1/2 hours or until roast is fork-tender.

Step 3

Remove roast; cool slightly. Skim fat from cooking liquid; reserve liquid. Trim and discard excess fat from cooked roast. Shred roast with 2 forks. Combine shredded roast and salsa in 3-quart saucepan. Cook over medium heat 8 to 10 minutes or until heated through, stirring frequently, adding enough reserved cooking liquid (up to 1/2 cup) to maintain a moist consistency, if necessary. Stir in cilantro, if desired. Serve mixture with warmed flour tortillas.
Nutrition Information
Nutrition information per serving of Chipotle Tacos: 412 Calories; 132.3 Calories from fat; 14.7g Total Fat (4.9 g Saturated Fat; 0.4 g Trans Fat; 2 g Polyunsaturated Fat; 5.8 g Monounsaturated Fat;) 90 mg Cholesterol; 1311 mg Sodium; 35 g Total Carbohydrate; 3.7 g Dietary Fiber; 5.4 g Total Sugars; 34 g Protein; 0 g Added Sugars; 109 mg Calcium; 5.6 mg Iron; 449 mg Potassium; 0.1 mcg Vitamin D; 0.4 mg Riboflavin; 13.6 mg NE Niacin; 0.6 mg Vitamin B6; 3.1 mcg Vitamin B12; 349 mg Phosphorus; 8.8 mg Zinc; 48.7 mcg Selenium; 98.9 mg Choline.
Nutrition Tip
This recipe is an excellent source of Protein, Iron, Riboflavin, Niacin, Vitamin B6, Vitamin B12, Phosphorus, Zinc, and Selenium; and a good source of Dietary Fiber, and Choline.