Braised Beef Short Ribs and Ricotta Gnocchi with Charred Pepper Cream Sauce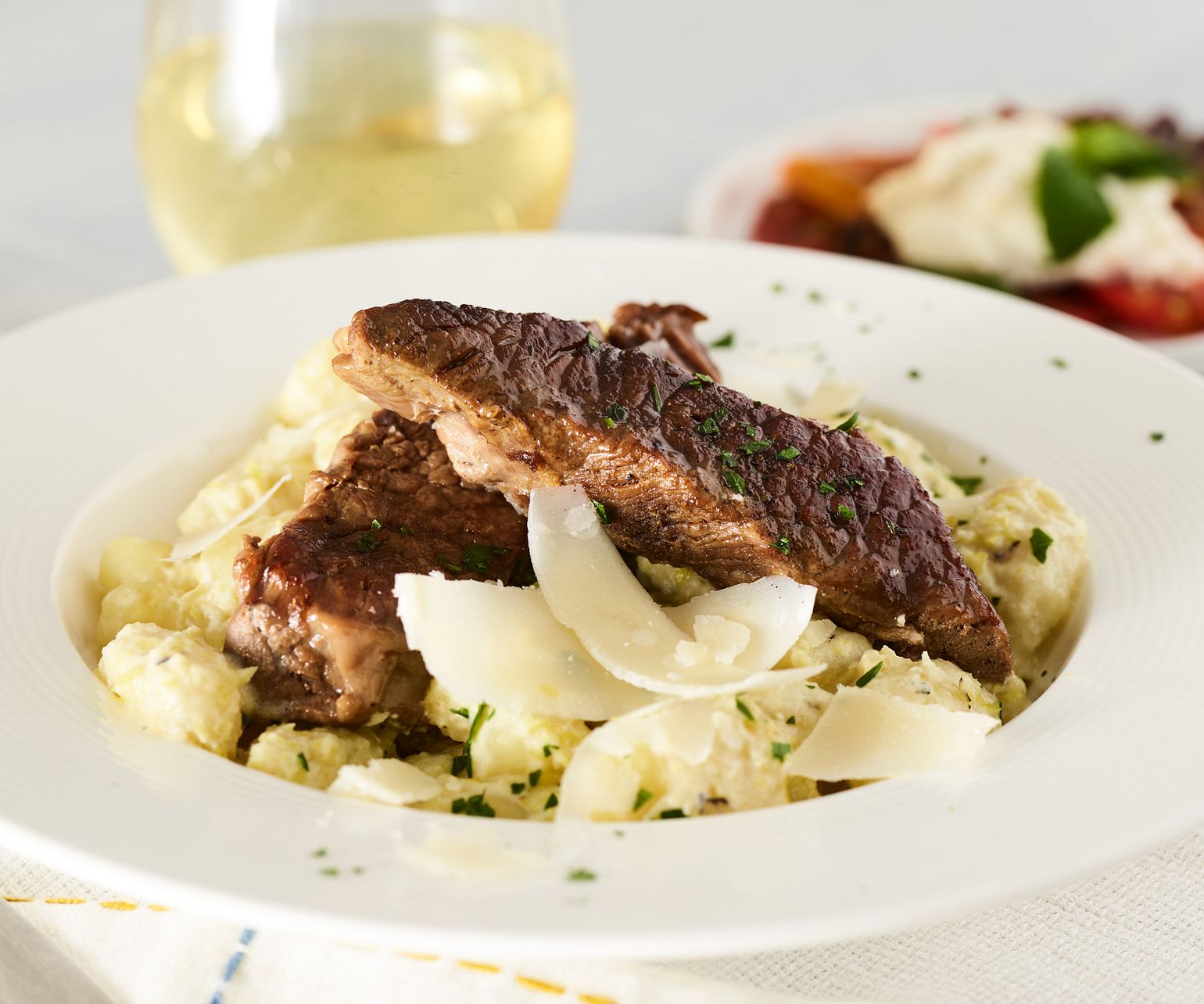 1 HRS 40 MINS
Time to Cook
Ingredients
Beef Short Ribs:
Charred Pepper Cream Sauce:
Ricotta Gnocchi:
Garnish:
Preparation
Beef Short Ribs:
Step 1

Season boneless Beef Short Ribs with salt and pepper, as desired. Add beef, broth, wine, onion, thyme and garlic to 6-quart pressure cooker. Close and lock pressure cooker lid. Use beef, stew or high-pressure setting on pressure cooker; program 70 minutes. Use quick-release feature to release pressure; carefully remove lid. Remove beef and cooking liquid; keep warm. 

Cooking Tip: This recipe was tested in an electric pressure cooker at high altitude. Cooking at an altitude less than 3,000 feet may require slightly less cooking time. Refer to the manufacturer's instructions.
Charred Pepper Cream Sauce:
Step 1

Place peppers on grid over medium, ash-covered coals. Grill, covered, 10 to 12 minutes (over medium heat on preheated gas grill) until skins are blackened, turning occasionally. Place peppers in food-safe zip top plastic bag; close bag. Set peppers aside to cool. 

Step 2

Remove and discard skins, stems and seeds from peppers. Melt butter in 12-inch skillet over medium heat. Add prepared peppers, shallots and garlic; cook 3 to 4 minutes until fragrant. Stir in wine; cook for 3 to 4 minutes until wine is reduced by half. Add cream and reduce heat; simmer 10 minutes. Remove from heat and set aside to cool 10 minutes. Place sauce in blender and process until smooth. Strain sauce in fine mesh strainer and return to same skillet. Season with salt, as desired.
Ricotta Gnocchi:
Step 1

Fill 5-quart stock pot with water. Season with salt, as deisred and bring to a boil. Combine ricotta, Parmesan, eggs, salt and pepper in medium bowl. Slowly stir in 1-1/4 cups flour. 

Step 2

Bring dough together into a ball and divide into eighths;. Working with one eighth, roll dough into a log, 5/8-inch diameter, cover remaining dough until ready to use. Cut log into 1/2-inch pieces. Roll pieces over a fork to get the signature gnocchi lines. Place gnocchi on sheet pan dusted with remaining 1/4 cup flour to prevent sticking. Repeat with remaining dough. Cook gnocchi in boiling water for 2 minutes or until they float to the top of the stock pot.
Step 1

Place cooked gnocchi in Charred Pepper Cream Sauce; divide gnocchi into 4 bowls. Top with short ribs and garnish with parsley and Parmesan, as desired.
Nutrition Information
Nutrition information per serving, 4 ounces beef, 1-1/2 cups gnocchi with sauce: 1297 Calories; 779.4 Calories from fat; 86.6g Total Fat (47.4 g Saturated Fat; 3.5 g Trans Fat; 2.4 g Polyunsaturated Fat; 30.2 g Monounsaturated Fat;) 399 mg Cholesterol; 1348 mg Sodium; 55 g Total Carbohydrate; 3.7 g Dietary Fiber; 65 g Protein; 598 mg Calcium; 8.1 mg Iron; 951 mg Potassium; 1.1 mg Riboflavin; 8.3 mg NE Niacin; 0.7 mg Vitamin B6; 5.7 mcg Vitamin B12; 695 mg Phosphorus; 16.7 mg Zinc; 89.9 mcg Selenium.
Nutrition Tip
This recipe is an excellent source of Protein, Calcium, Iron, Potassium, Riboflavin, Niacin, Vitamin B6, Vitamin B12, Phosphorus, Zinc, and Selenium; and a good source of Dietary Fiber.