Beef Strip Steaks with Kale Polenta and Mushroom-Strawberry Salad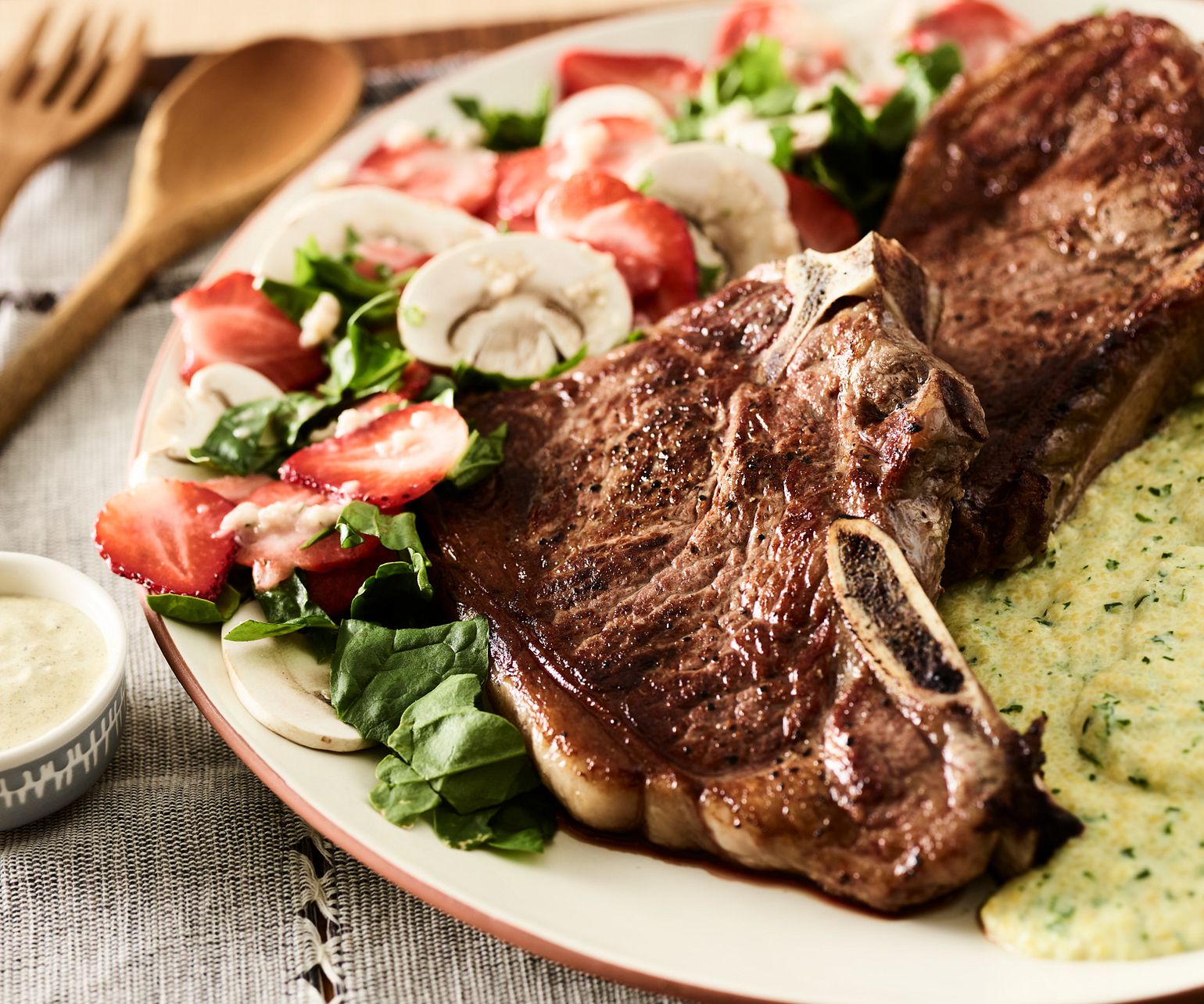 Ingredients
Kale Polenta:
Smoked Oyster Aioli:
Mushroom-Strawberry Salad:
Preparation
Step 1

Place all Smoked Oyster Aioli ingredients in small bowl; mix well to combine. Season with salt, as desired. Cover and refrigerate until ready to use.

Step 2

Preheat large cast iron skillet over medium heat until hot. Season beef Bone-in Strip Steaks with salt and pepper, as desired. Place steaks in skillet; cook 12 to 15 minutes for medium rare (145°F) to medium (160°F) doneness, turning occasionally. Transfer steaks to cutting board; tent loosely with aluminum foil. Let stand 10 minutes. Season with salt and pepper, as desired.

Step 3

Place kale, oil and garlic in food processor bowl; process 1 minute or until kale and garlic are finely chopped and thoroughly combined. Bring water to a boil in a medium sauce pan; whisk in polenta and reduce heat. Simmer 5 minutes or until all liquid is absorbed, stirring occasionally. Stir in kale mixture, cream and cheese until combined. Season with salt and pepper, as desired. Keep warm.

Step 4

Place mushrooms, strawberries and spinach in a large bowl. Place remaining Mushroom-Strawberry Salad ingredients in food processor or blender; process until smooth. Pour over mushroom mixture and toss gently.

Step 5

Serve steaks with Kale Polenta, Mushroom-Strawberry Salad; garnish with Smoked Oyster Aioli, as desired.
Nutrition Information
Nutrition information per serving, 4 ounces beef, 1 cup polenta, 1 cup salad: 984 Calories; 606.6 Calories from fat; 67.4g Total Fat (28.9 g Saturated Fat; 1.4 g Trans Fat; 6.5 g Polyunsaturated Fat; 22.5 g Monounsaturated Fat;) 250 mg Cholesterol; 317 mg Sodium; 38 g Total Carbohydrate; 4.5 g Dietary Fiber; 56 g Protein; 155 mg Calcium; 8.7 mg Iron; 958 mg Potassium; 1 mg Riboflavin; 11.7 mg NE Niacin; 1.3 mg Vitamin B6; 7.9 mcg Vitamin B12; 539 mg Phosphorus; 12 mg Zinc; 51.5 mcg Selenium; 147.3 mg Choline.
Nutrition Tip
This recipe is an excellent source of Protein, Iron, Potassium, Riboflavin, Niacin, Vitamin B6, Vitamin B12, Phosphorus, Zinc, Selenium, and Choline; and a good source of Dietary Fiber, and Calcium.