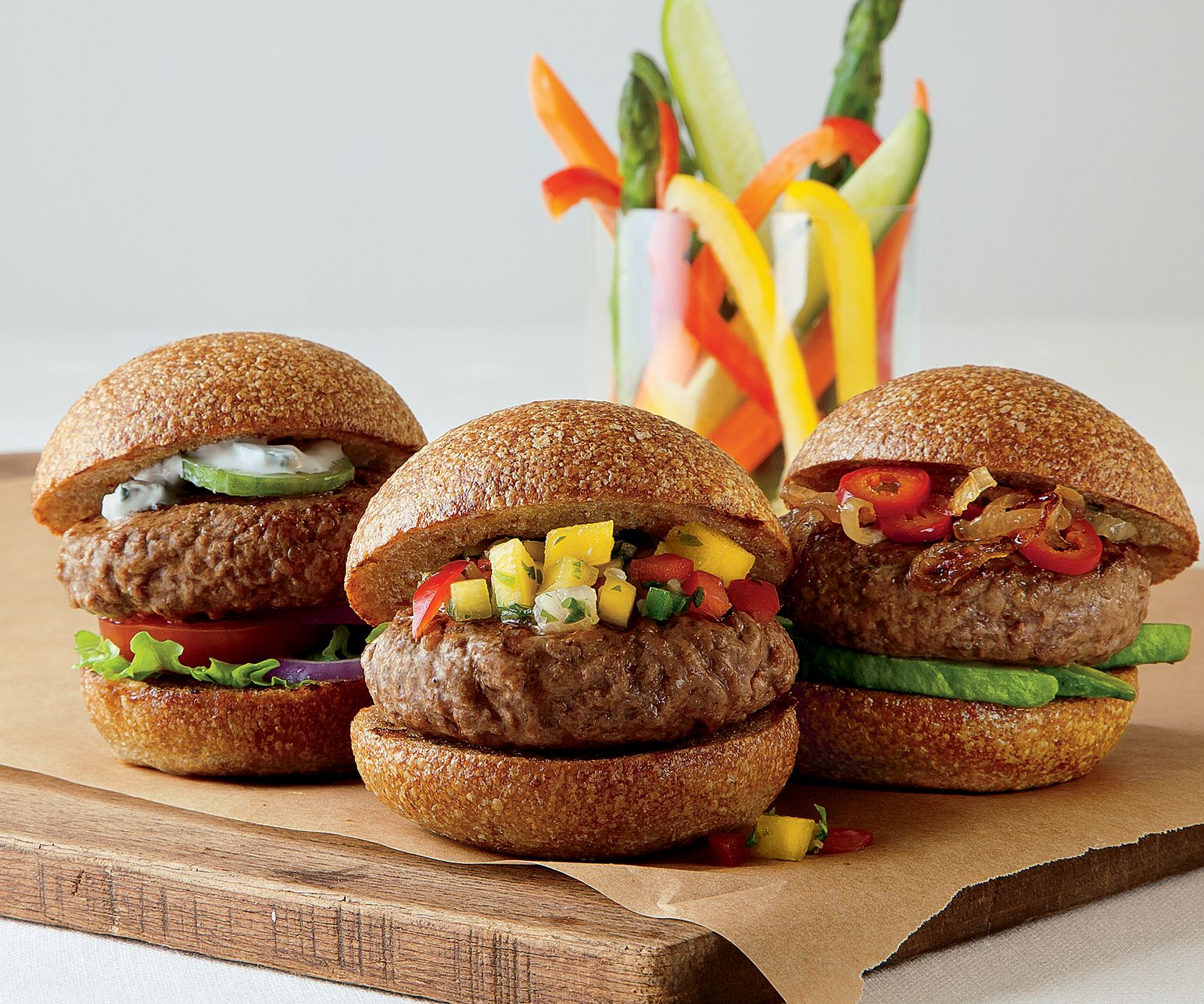 Ingredients
Topping Variations:
Preparation
Step 1

Tear one hamburger bun into pieces. Place in food processor or blender container. Cover; pulse on and off, to form fine crumbs.

Step 2

Combine Ground Beef, 1/2 cup bread crumbs, onion, egg white, garlic, salt and pepper in medium bowl, mixing lightly but thoroughly. Lightly shape into eight 1/2-inch thick mini patties.

Step 3

Place patties on grid over medium, ash-covered coals. Grill, covered, 8 to 9 minutes (over medium heat on preheated gas grill, 9 to 10 minutes) until instant-read thermometer inserted horizontally into center registers 160°F, turning occasionally. About 1-1/2 minutes before burgers are done, place rolls, cut sides down, on grid. Grill until lightly toasted.

Cooking Tip: To broil burgers, preheat broiler.  Place burgers on rack in broiler pan so surface of beef is 2 to 3 inches from heat element. Broil 9 to 10 minutes to medium (160°F) doneness, turning the burgers once. Place buns, cut sides up, on broiler pan so surface is 2 to 3 inches from heat element. Broil 45 to 60 seconds or until lightly toasted.

Step 4

Serve burgers in buns with Topping Variation(s), as desired. Close sandwiches. Mango-Pineapple Salsa: Combine 1/2 cup finely diced ripe mango or 1/2 cup finely diced drained jarred ripe mango, 1/3 cup finely chopped fresh pineapple or 1/3 cup drained canned crushed pineapple, 1/4 cup finely chopped tomato, 1 to 2 tablespoons finely chopped jalapeño pepper, 1 tablespoon finely chopped fresh mint, 1 tablespoon fresh lime juice and 1/4 teaspoon salt in small bowl. Refrigerate until ready to use. Makes 1 cup Spicy Caramelized Onions: Heat 1 tablespoon olive oil in large nonstick skillet over medium heat until hot. Add 3 cups thinly sliced yellow onions and 2 to 3 medium thinly sliced red or green jalapeño peppers or 6 thinly sliced baby sweet red bell peppers. Cook 5 minutes, stirring occasionally. Reduce heat to medium-low; stir in 1/2 teaspoon cumin. Cook 15 to 18 minutes or until onions are very tender and golden brown, stirring frequently. Season with salt, as desired. Makes 1-1/2 cups Creamy Yogurt-Feta Sauce: Combine 1/2 cup reduced-fat or nonfat plain or Greek yogurt, 1/4 cup reduced-fat or regular crumbled feta cheese, 2 tablespoons minced onion and 1 teaspoon chopped fresh oregano or 1/4 teaspoon dried oregano leaves in small bowl. Season with salt and pepper, as desired. Refrigerate until ready to use. Makes about 3/4 cup
Nutrition Information
Nutrition information per serving, with spicy caramelized onions: 240 Calories; 63 Calories from fat; 7g Total Fat (2 g Saturated Fat; 3 g Monounsaturated Fat;) 32 mg Cholesterol; 376 mg Sodium; 30 g Total Carbohydrate; 4.6 g Dietary Fiber; 16 g Protein; 2.6 mg Iron; 6.8 mg NE Niacin; 0.4 mg Vitamin B6; 1.1 mcg Vitamin B12; 3.8 mg Zinc; 34.3 mcg Selenium; 52.6 mg Choline.
Nutrition Tip
This recipe is an excellent source of Protein, Niacin, Vitamin B6, Vitamin B12, Zinc, and Selenium; and a good source of Dietary Fiber, and Iron.