Spicy Beef Chorizo Breakfast Strata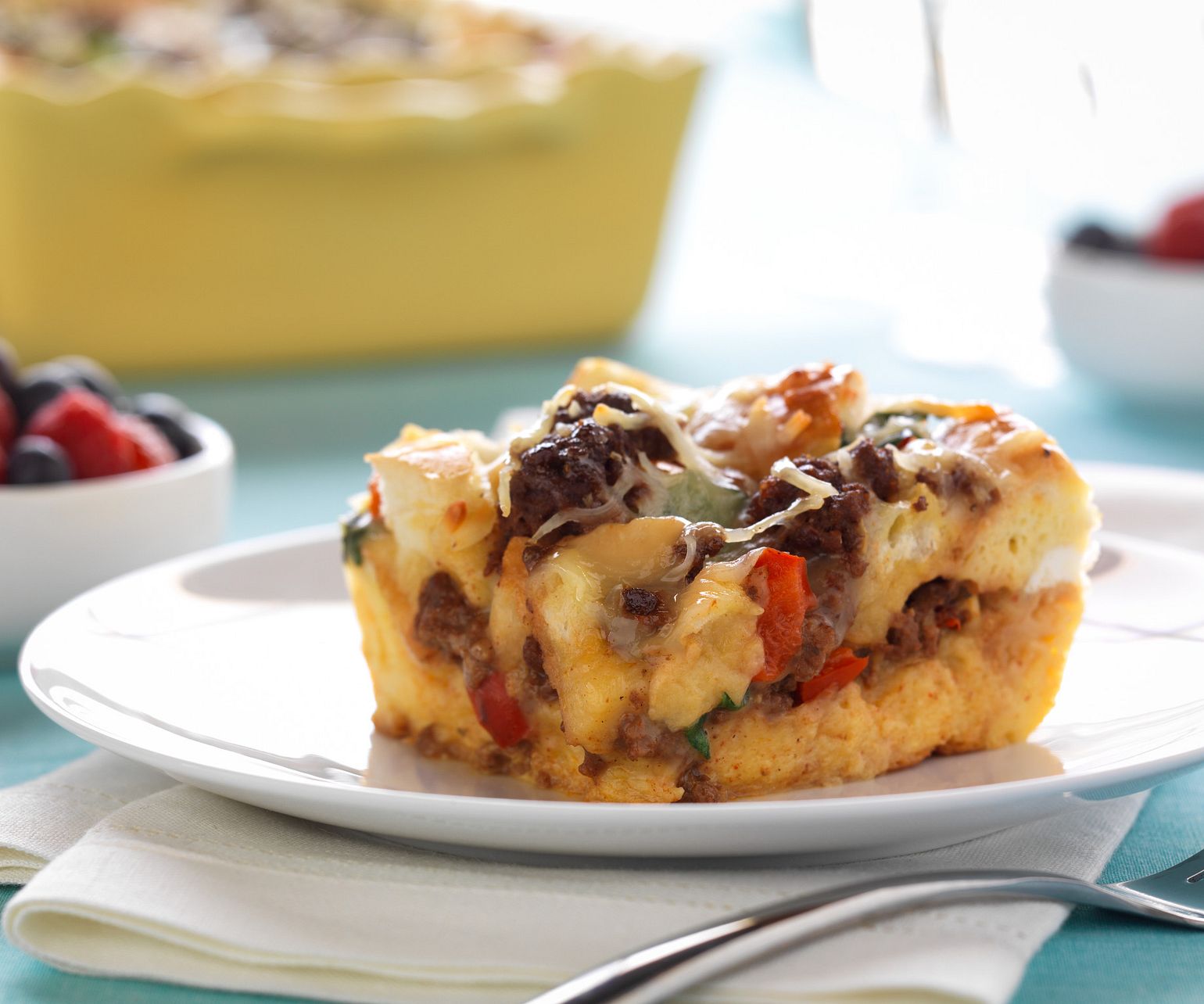 1 HRS 30 MINS
Time to Cook
Ingredients
Toppings (optional):
Preparation
Step 1

Preheat oven to 350°F. Prepare Mexican-Style Beef Sausage. Stir in bell pepper and spinach; set aside. Mexican-Style Beef Sausage:  Combine 1 pound Ground Beef (93% lean or leaner), 2 tablespoons red wine vinegar, 1-1/2 teaspoons dried oregano leaves, 1-1/2 teaspoons smoked paprika, 1-1/2 teaspoons chili powder, 1 teaspoon garlic powder, 1/2 teaspoon salt and 1/2 teaspoon chipotle chili powder in large mixing bowl mixing lightly but thoroughly.  Heat large nonstick skillet over medium heat until hot.  Add sausage mixture; cook 8 to 10 minutes, breaking into 1/2-inch crumbles and stirring occasionally.

Cooking Tip: Cooking times are for fresh or thoroughly thawed ground beef. Ground beef should be cooked to an internal temperature of 160°F. Color is not a reliable indicator of ground beef doneness.

Step 2

Meanwhile, beat eggs, milk, remaining 1/2 teaspoon salt and 1/4 teaspoon pepper in large bowl until blended. Stir in bread and 1 cup cheese. Stir in sausage mixture.

Step 3

Spray 3-quart shallow baking dish with nonstick cooking spray. Pour sausage mixture into prepared dish. Top evenly with remaining 1/2 cup cheese. Cover with aluminum foil; bake in 350°F oven 40 minites. Remove foil; continue baking 10 to 15 minutes or until puffed and lightly browned. Let stand 5 minutes before serving. Garnish with toppings, if desired.

Cooking Tip: Sausage and egg mixture can be prepared ahead of time. Pour into prepared pan and top with cheese. Cover with aluminum foil and refrigerate 6 hours or as long as overnight. Increase baking time to 50 minutes before removing the aluminum foil.
Nutrition Information
Nutrition information per serving,: 638 Calories; 216 Calories from fat; 24g Total Fat (11 g Saturated Fat; 6 g Monounsaturated Fat;) 371 mg Cholesterol; 1501 mg Sodium; 48 g Total Carbohydrate; 4.1 g Dietary Fiber; 53 g Protein; 0 mg Calcium; 7.3 mg Iron; 12.4 mg NE Niacin; 0.7 mg Vitamin B6; 3.3 mcg Vitamin B12; 7.5 mg Zinc; 58.5 mcg Selenium; 322.3 mg Choline.
Nutrition Tip
This recipe is an excellent source of Protein, Iron, Niacin, Vitamin B6, Vitamin B12, Zinc, Selenium, and Choline; and a good source of Dietary Fiber.