Smoked Steak Skewers with Tomatoes, Onions and Olives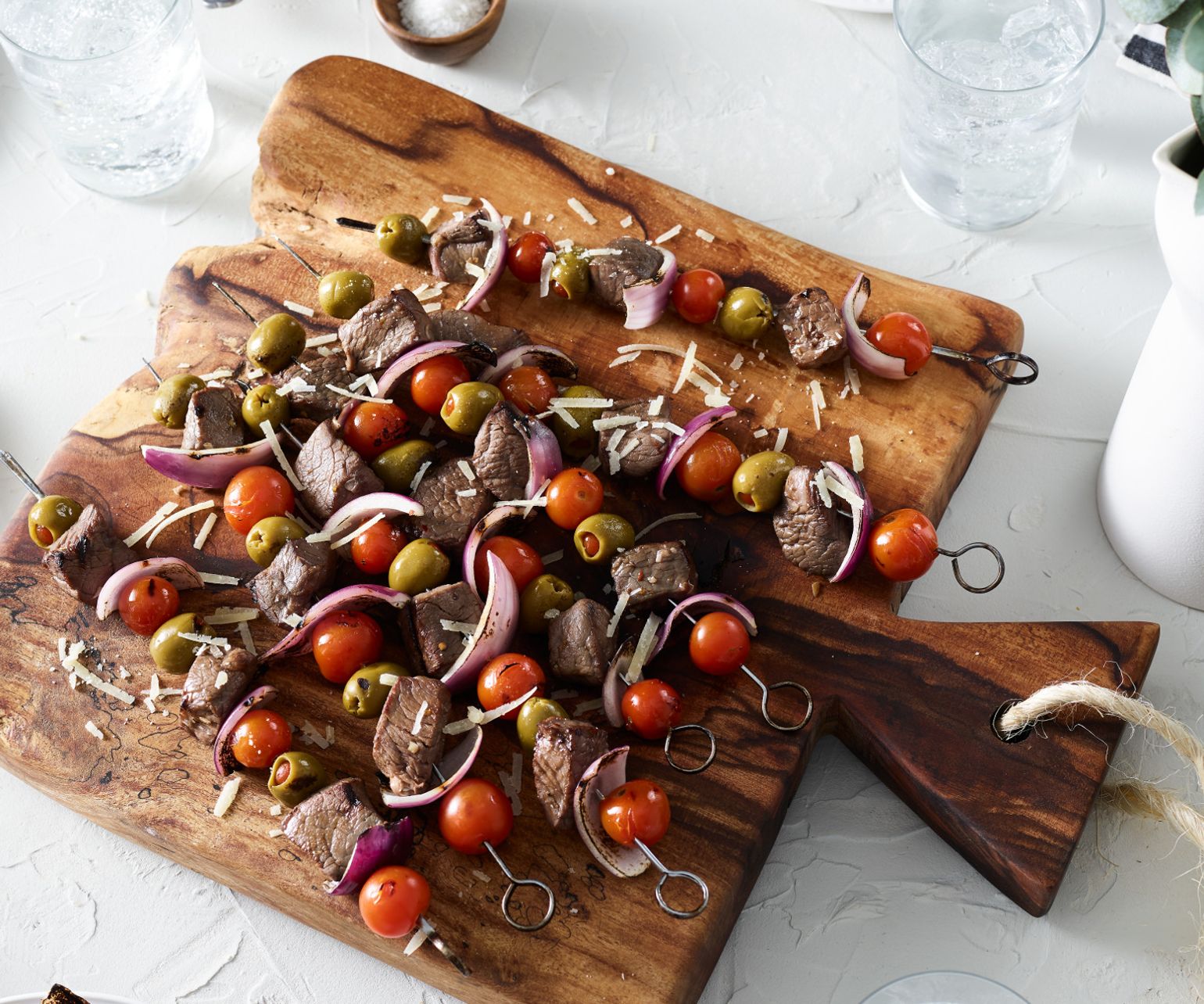 Ingredients
Marinade:
Garnish:
Preparation
Step 1

Combine Marinade ingredients in a food-safe plastic bag. Add beef Top Sirloin Steak cubes; turn cubes coat. Close bag securely and marinate in refrigerator 30 minutes.

Step 2

Add wood chunks, chips or pellets to smoker according to manufacturer's instructions. Preheat smoker to 225°F.

Step 3

Remove cubes from marinade; discard marinade. Place cubes in smoker according to manufacturer's instructions. Set timer for 10 to 15 minutes depending on desired smoke flavor.

Step 4

When cubes are done smoking, carefully remove from smoker. Thread cubes, onions, tomatoes and olives evenly onto eight 12-inch metal skewers, leaving small spaces between pieces.

Cooking Tip: Any large pitted olive variety may be used.

Step 5

Place skewers on grid over medium heat.  Grill, covered, 8 to 10 minutes (over medium heat on preheated gas grill, 9 to 11 minutes) for medium rare (145°F) to medium (160°F) doneness, turning once. Season with salt, if desired. Top skewers with cheese, as desired.
Nutrition Information
Nutrition information per serving: 2 skewers: 293 Calories; 148.5 Calories from fat; 16.5g Total Fat (6.5 g Saturated Fat; 0.2 g Trans Fat; 0.6 g Polyunsaturated Fat; 4.1 g Monounsaturated Fat;) 71 mg Cholesterol; 954 mg Sodium; 8 g Total Carbohydrate; 1.5 g Dietary Fiber; 25 g Protein; 0 mg Calcium; 1.7 mg Iron; 488 mg Potassium; 0.1 mg Riboflavin; 6.4 mg NE Niacin; 0.6 mg Vitamin B6; 1.2 mcg Vitamin B12; 195 mg Phosphorus; 4.1 mg Zinc; 24.7 mcg Selenium; 86.3 mg Choline.
Nutrition Tip
This recipe is an excellent source of Protein, Niacin, Vitamin B6, Vitamin B12, Zinc, and Selenium; and a good source of Potassium, Phosphorus, and Choline.