Smoked Chuck Beef Ribs
Recipe Courtesy Of: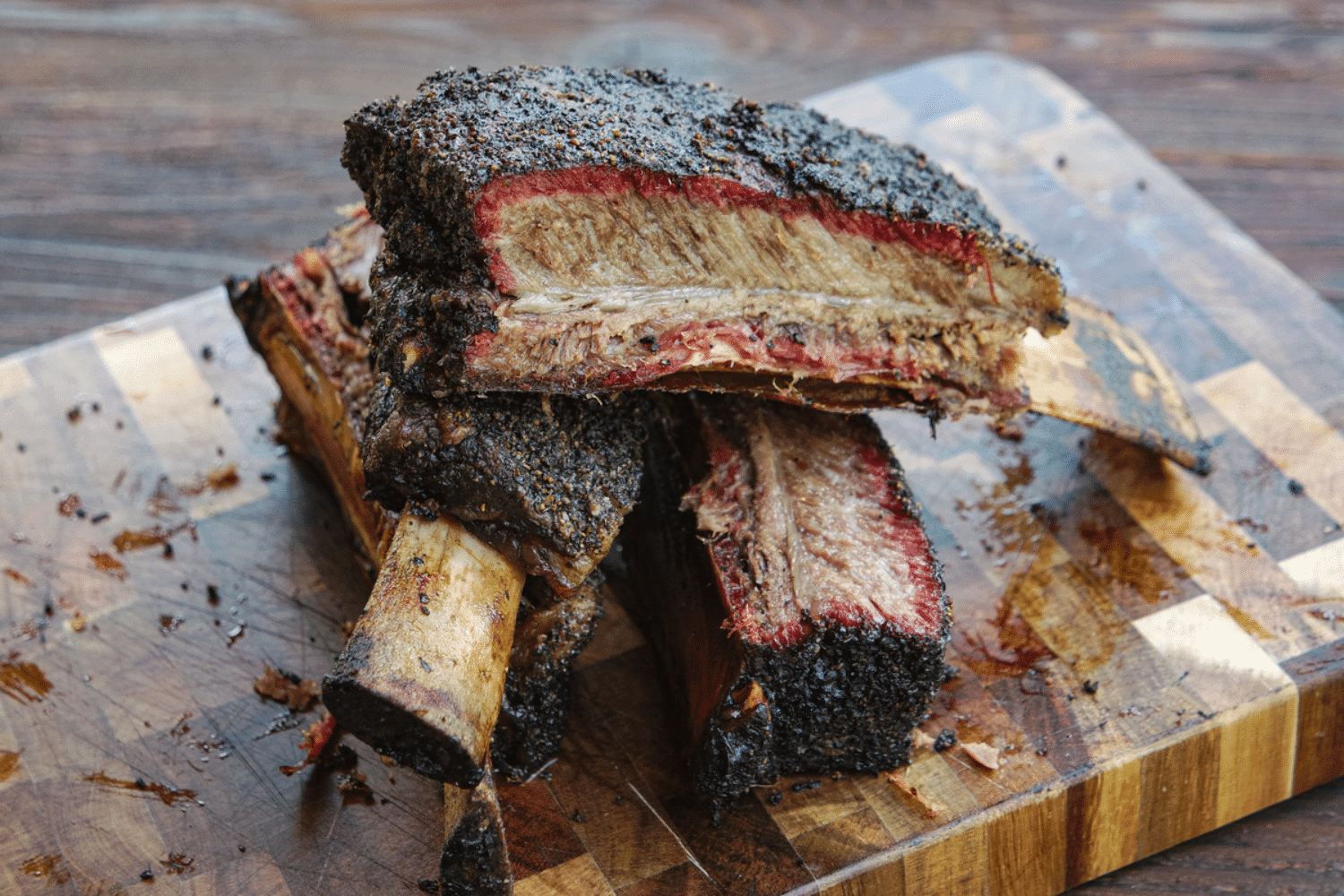 Ingredients
Ingredients
Optional Ingredients
Preparation
Preparation
Step 1

Preheat a smoker or pellet grill to 275°F.

Step 2

Pat ribs dry with a paper towel removing any moisture collected on the surface.

Step 3

Create seasoning by combining the salt and pepper (or you can use Hardcore Carnivore Black seasoning).

Step 4

Rub the Beef Ribs well on all sides with the seasoning, being sure to coat generously, and seasoning the ends.

Step 5

Place any remaining seasoning which has not touched the raw beef into an airtight container to use for next time.

Step 6

Place the ribs into the smoker and close the lid. Cook for 5-6 hours total.

Step 7

Place water and cider vinegar into a spray bottle, and lightly spritz the ribs every 30 minutes for the first 4 hours of the cook.

Step 8

The ribs are ready when they are completely probe tender (this means you can insert a skewer, toothpick or thermometer anywhere in the meat, and not feel any resistance). If there are parts that still feel tough, allow the ribs to cook longer.

Step 9

Once completely tender, remove the ribs from the smoker, then wrap them tightly in butcher's paper and place them into a small cooler (with no ice) to rest for 30 minutes.

Step 10

To serve, slice the ribs between the bones.
Suggestions
You will not remove the membrane for this recipe – it helps hold the meat onto the bones as they cook.
Nutrition Information
Nutrition information per serving: 520 Calories; 414 Calories from fat; 46.0 g Total Fat (19.5 g Saturated Fat; 20.7 g Monounsaturated Fat); 102.9 mg Cholesterol; 1,496.3 mg Sodium; 1.1 g Total Carbohydrate; 0.4 g Dietary Fiber; 23.8 g Protein; 2.7 mg Iron; 268.2 mg Potassium; 0.1 mg Thiamin; 0.2 mg Riboflavin; 5.3 mg Niacin (NE); 0.3 mg Vitamin B6; 2.9 mcg Vitamin B12; 5.4 mg Zinc; 22.9 mcg Selenium; 90.2 mg Choline.
Nutrition Tip
This recipe is an excellent source of Protein, Niacin, Vitamin B12, Zinc, and Selenium. It is a good source of Iron, Riboflavin, Vitamin B6, and Choline.