Slow-Cooked Red Wine Braised Beef Short Ribs with Herbed Polenta Toast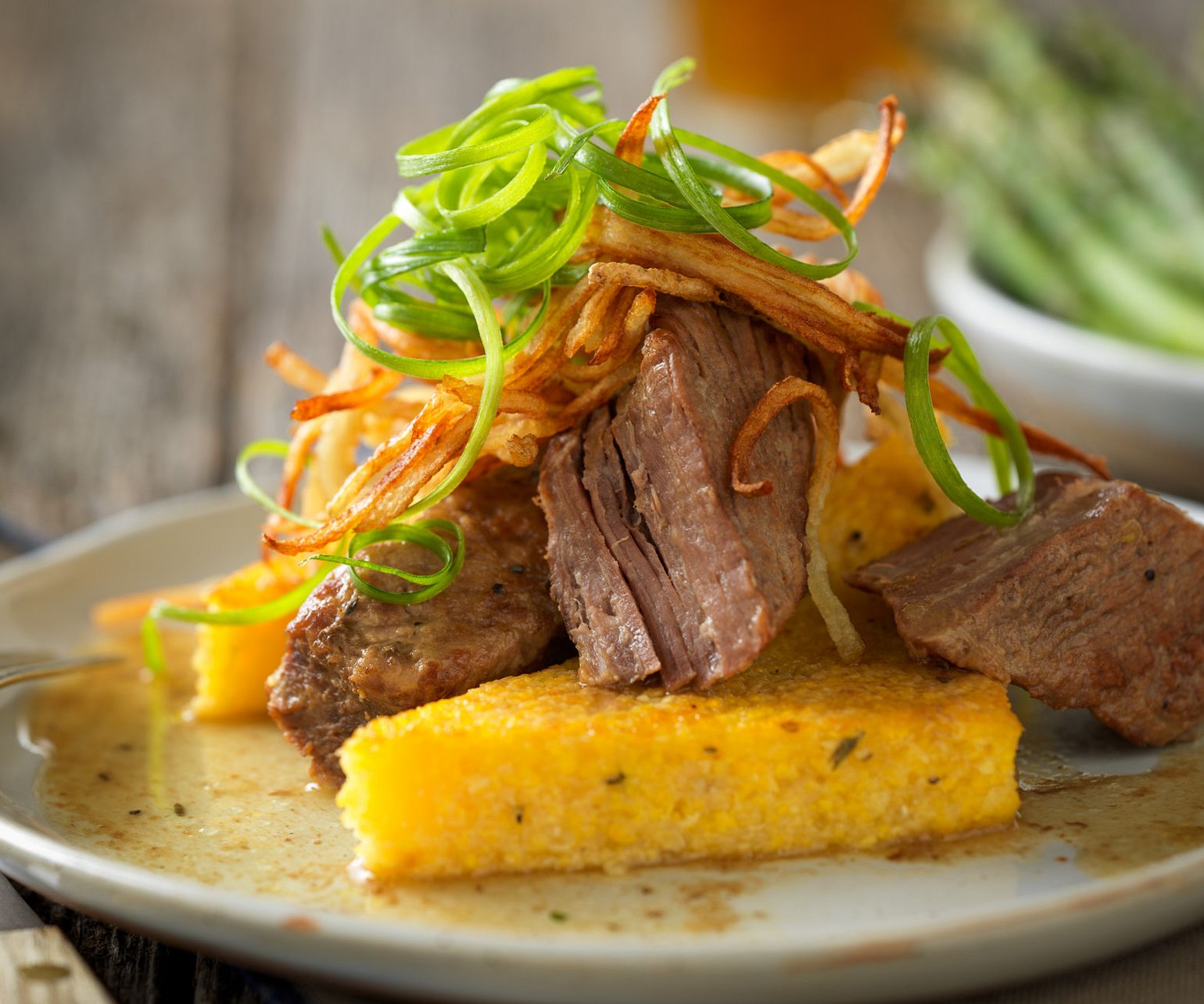 6 HRS 30 MINS
Time to Cook
Preparation
Alternate Cooking Method:
Step 1

Mix flour, salt and pepper in medium bowl. Coat beef Short Ribs in flour mixture. Heat large skillet over medium-high heat until hot; coat with cooking spray. Brown half ribs evenly, about 4 to 5 minutes per side; remove from skillet. Repeat remaining ribs; remove ribs from skillet. Reduce heat to low; add wine. Cook 1 to 2 minutes until browned bits attached to skillet are dissolved.

Step 2

Add onions, celery and carrot to slow cooker. Place ribs on vegetables. Pour wine mixture over ribs. Add 1 cup Roasted Beef Stock, thyme and rosemary sprigs. Cover; cook HIGH 6 hours or LOW 7 hours or until beef is fork-tender.

Cooking Tip: Roasted Beef Stock:

Preheat oven to 475°F. Place 6 to 8 pounds beef bones, 2 cups diced yellow onions, 1 cup sliced carrots and 1/2 cup sliced celery in roasting pan. Roast in 475°F oven 45 minutes or until browned, turning once. Spread 2 tablespoons tomato paste over bones; roast 15 minutes. Remove from oven; drain fat.

Place bones and vegetables in large stockpot. Scrape bottom of roasting pan to loosen any brown bits; add to stockpot. Add 1 gallon water; bring to boil. Add 10 black peppercorns, 3 to 4 sprigs fresh parsley, 2 cloves garlic, 2 sprigs fresh thyme and 2 bay leaves. Simmer stock 8 to 10 hours, occasionally skimming off and discarding impurities.

Remove stockpot from heat; cool 15 minutes. Strain stock through cheesecloth-lined colander into large bowl.

Step 3

Meanwhile, cook polenta according to package instructions, replacing water with Roasted Beef Stock. Stir in 1/2 teaspoon chopped rosemary and 1/2 teaspoon chopped thyme. Season with salt and pepper, if desired. Line 8 by 8-inch baking dish with aluminum foil. Coat with cooking spray. Pour polenta into prepared dish, spreading evenly. Cover and refrigerate until cool.

Step 4

Invert polenta onto cutting board. Cut into 6 equal squares. Cut each square diagonally in half, forming a triangle. Cover with plastic wrap; refrigerate until ready to use.

Step 5

Place green onions in small bowl of ice water. Cover; refrigerate until ready to use.

Step 6

Heat 1 teaspoon oil in large nonstick skillet over medium-high heat until hot. Add half of polenta triangles; cook 3 to 4 minutes per side until golden brown and slightly crispy. Remove polenta from skillet to same baking sheet. Repeat using remaining 1 teaspoon oil and remaining polenta triangles, if needed. Remove from skillet to baking sheet. Keep warm in 170°F oven until ready to use.

Step 7

Remove ribs from slow cooker; keep warm. Discard thyme and rosemary sprigs from slow cooker. Strain cooking liquid through colander or fine mesh strainer; discard vegetables.

Step 8

Place 2 polenta triangles into each of four large shallow bowls; top with ribs. Pour 1/3 cup cooking liquid over ribs. Drain green onions from water. Garnish with green onion and shoestring potatoes, as desired.

Step 9

This recipe can be made in a 6-quart electric pressure cooker. Mix flour, salt and pepper in medium bowl. Coat beef Short Ribs in flour mixture. In pressure cooker, sear beef on sauté setting in 2 to 3 batches using olive oil as needed. Add 1/2 cup wine, onions, celery, carrot, 1/2 cup stock, thyme and rosemary in pressure cooker. Close and lock pressure cooker lid. Use meat or high-pressure setting on pressure cooker; program 90 minutes on pressure cooker timer. Use quick-release feature to release pressure; carefully remove lid. Remove thyme and rosemary. Continue as directed in step 3. (This recipe variation was tested in an electric pressure cooker at high altitude. Cooking at an altitude of less than 3000 feet may require slightly less cooking time. Refer to the manufacturer's instructions.)
Nutrition Information
Nutrition information per serving, 4 servings: 714 Calories; 315 Calories from fat; 35g Total Fat (15 g Saturated Fat; 18 g Monounsaturated Fat;) 142 mg Cholesterol; 771 mg Sodium; 43 g Total Carbohydrate; 4.8 g Dietary Fiber; 45 g Protein; 6.8 mg Iron; 7.9 mg NE Niacin; 0.8 mg Vitamin B6; 4.9 mcg Vitamin B12; 14.6 mg Zinc; 48.4 mcg Selenium; 149.3 mg Choline.
Nutrition Tip
This recipe is an excellent source of Protein, Iron, Niacin, Vitamin B6, Vitamin B12, Zinc, Selenium, and Choline; and a good source of Dietary Fiber.