Grilled Cajun Chuck Roast with Spicy Cheddar Grits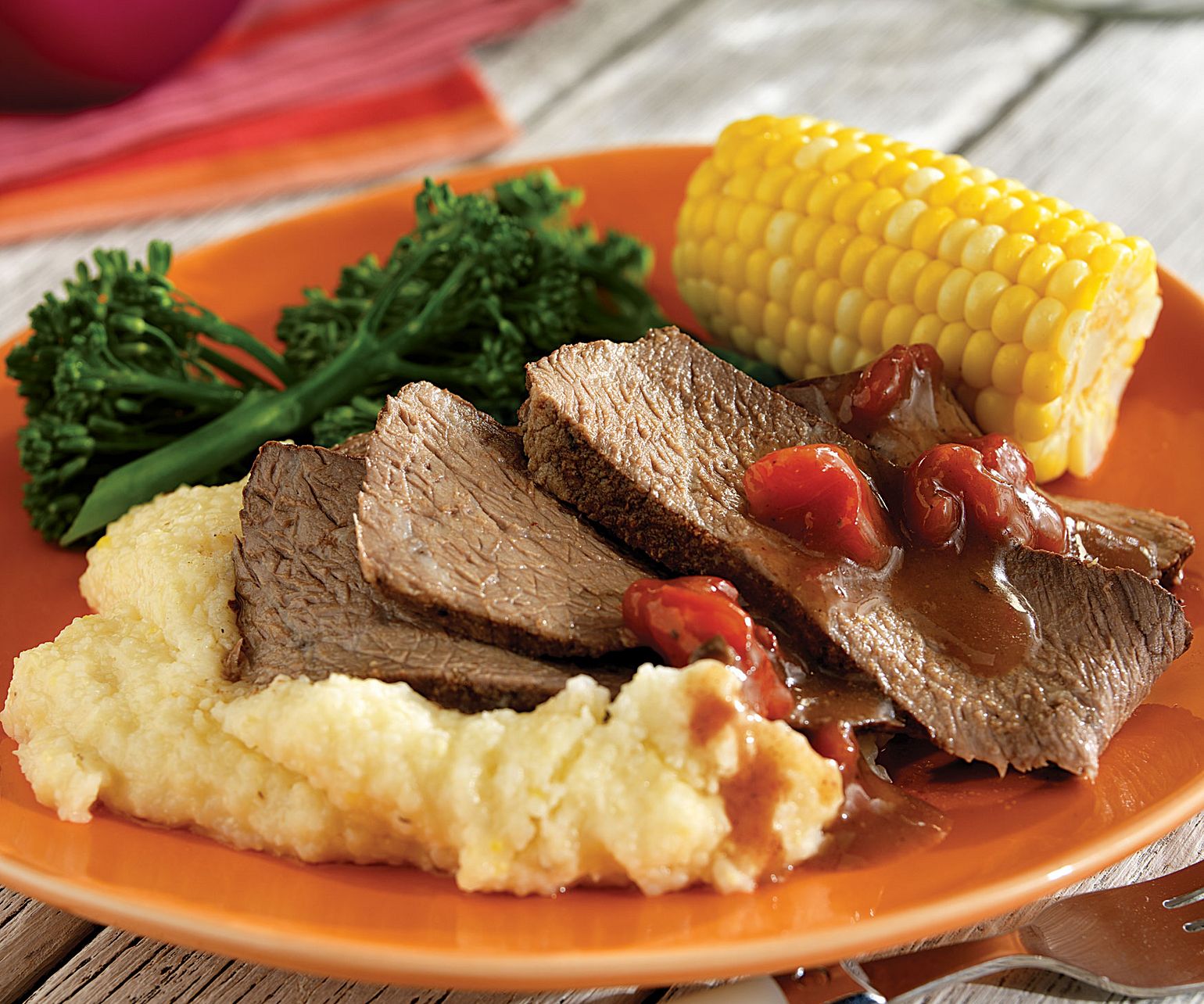 Preparation
Step 1

Press Cajun seasoning evenly onto all surfaces of beef roast. Place two 24 x 18-inch pieces of heavy-duty aluminum foil on top of each other in shallow roasting pan; place roast in center of foil. Bring up all sides of foil forming a bag and so no liquid can leak out; do not seal. Combine tomatoes and flour in small bowl; pour evenly over surface of pot roast. Seal top and sides of bag with double fold.

Step 2

Prepare grill for indirect cooking by igniting an equal number of charcoal briquets on each side of the fire grate, leaving open space in center. When coals are medium, ash-covered (about 25 to 30 minutes), add 3 to 4 new briquets to each side. Place aluminum foil drip pan in center of grate between coals. Position cooking grid with handles over coals, so briquets may be added as needed.

Cooking Tip: To prepare on gas grill, preheat grill according to manufacturer's directions for medium indirect heat. Place pot roast on grid as directed above. Grill, covered, 2 to 2-1/2 hours or until pot roast is fork-tender.

Step 3

Remove foil bag from pan and place in center of grid over drip pan. Grill, covered, 2 to 2-1/2 hours or until roast is fork-tender. (Add 3 to 4 briquets per side every 30 minutes to maintain heat.)

Step 4

Meanwhile prepare grits. Cooks grits in water with salt according to package directions. Add 1/2 cup cheese and red pepper; stir until cheese melts; keep warm.

Step 5

Remove foil packet to clean shallow pan. Using oven mitts, cut packet open with sharp knife. Carefully fold back top of packet allowing steam to escape. Remove roast; keep warm. Skim fat from cooking liquid.

Cooking Tip: When checking roast for tenderness, open foil bag carefully so it can be resealed if further grilling is needed.

Step 6

Carve roast into slices; serve with cooking liquid and grits. Sprinkle cheese over grits, as desired.
Nutrition Information
Nutrition information per serving: 381 Calories; 126 Calories from fat; 14g Total Fat (6 g Saturated Fat; 4 g Monounsaturated Fat;) 95 mg Cholesterol; 1101 mg Sodium; 27 g Total Carbohydrate; 0.9 g Dietary Fiber; 36 g Protein; 4.8 mg Iron; 5.1 mg NE Niacin; 0.3 mg Vitamin B6; 3.2 mcg Vitamin B12; 6.9 mg Zinc; 36.8 mcg Selenium.
Nutrition Tip
This recipe is an excellent source of Protein, Iron, Niacin, Vitamin B12, Zinc, and Selenium; and a good source of Vitamin B6.