Corned Beef with Red Currant-Mustard Sauce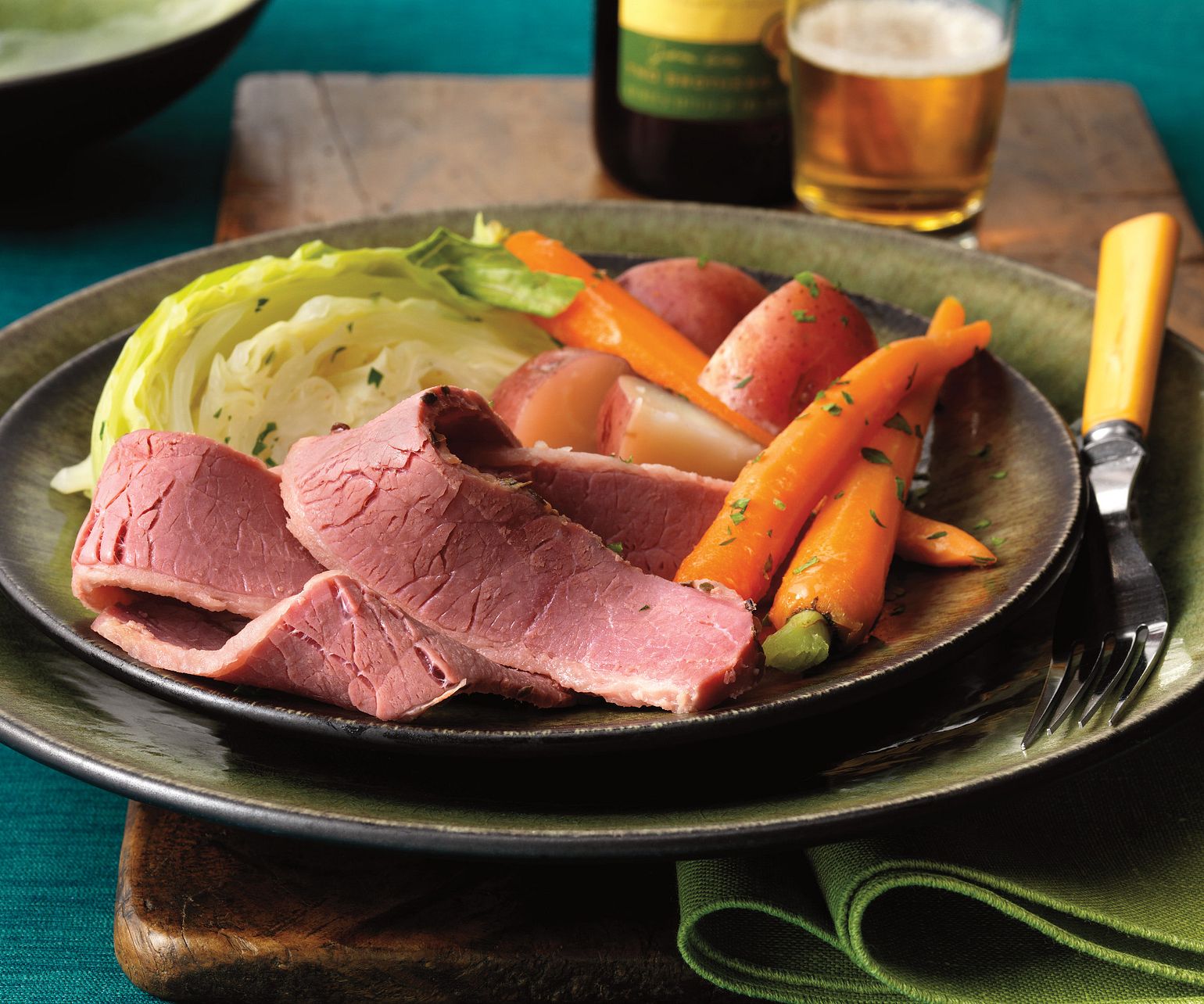 Ingredients
Red Currant-Mustard Sauce:
Preparation
Alternate Cooking Method:
Step 1

Place celery and onions in 4-1/2- to 5-1/2-quart slow cooker; top with corned beef brisket. Sprinkle contents of seasoning packet over brisket. Add 2 cups water and beer. Cover and cook on HIGH 6 to 7 hours or on LOW 9 to 10 hours or until brisket is fork-tender. (No stirring is necessary during cooking.)

Cooking Tip: To cook on range-top, place corned beef in stockpot; sprinkle with contents of seasoning packet. Add celery, onions, 2 cups water and beer. Bring just to a simmer; do not boil. Cover tightly; simmer 2-1/2 to 3 hours or until brisket is fork-tender. Prepare vegetables and sauce as directed.




If seasoning packet is not included with Corned Beef Brisket, substitute 1-1/2 teaspoons pickling spice, if desired.

Step 2

Meanwhile, place cabbage, potatoes and carrots in 2-1/2 quart microwave-safe dish; add remaining 1/2 cup water.  Cover; microwave on HIGH 15 to 18 minutes or until vegetables are tender, stirring or rearranging once.  Drain; remove and discard cores from cabbage wedges. Add butter; season with salt and pepper, as desired. Toss to coat; keep warm.

Cooking Tip: To prevent cabbage wedges from falling apart during cooking, leave core intact while cutting wedges. Remove and discard core before serving.

Step 3

Prepare Red Currant-Mustard Sauce. Place jelly in medium microwave-safe bowl. Cover; microwave on HIGH 1-1/2 to 2 minutes or until melted, stirring once. Whisk in mustard. Cover; microwave on HIGH 30 seconds. Stir; keep warm.

Cooking Tip: You may substitute red raspberry jelly for red currant jelly.

Step 4

Remove brisket and carve diagonally across the grain into thin slices. Serve with vegetables and sauce. Garnish with parsley, if desired.

Step 5

This recipe can be made in a 6-quart electric pressure cooker. Place Corned Beef Brisket, celery, onions and 1/2 cup beer in pressure cooker. Close and lock pressure cooker lid. Use meat or high-pressure setting on pressure cooker; program 70 minutes on pressure cooker timer. Use quick-release feature to release pressure; carefully remove lid. Continue as directed in step 2. (This recipe variation was tested in an electric pressure cooker at high altitude. Cooking at an altitude of less than 3000 feet may require slightly less cooking time. Refer to the manufacturer's instructions.)
Nutrition Information
Nutrition information per serving, 1/6 of recipe: 574 Calories; 216 Calories from fat; 24g Total Fat (9 g Saturated Fat; 11 g Monounsaturated Fat;) 114 mg Cholesterol; 1462 mg Sodium; 63 g Total Carbohydrate; 4.5 g Dietary Fiber; 23 g Protein; 3.1 mg Iron; 4.5 mg NE Niacin; 0.5 mg Vitamin B6; 1.8 mcg Vitamin B12; 5.2 mg Zinc; 35.9 mcg Selenium; 95.8 mg Choline.
Nutrition Tip
This recipe is an excellent source of Protein, Niacin, Vitamin B6, Vitamin B12, Zinc, and Selenium; and a good source of Dietary Fiber, Iron, and Choline.