Bite-Size Sweet and Spicy Beef Ribs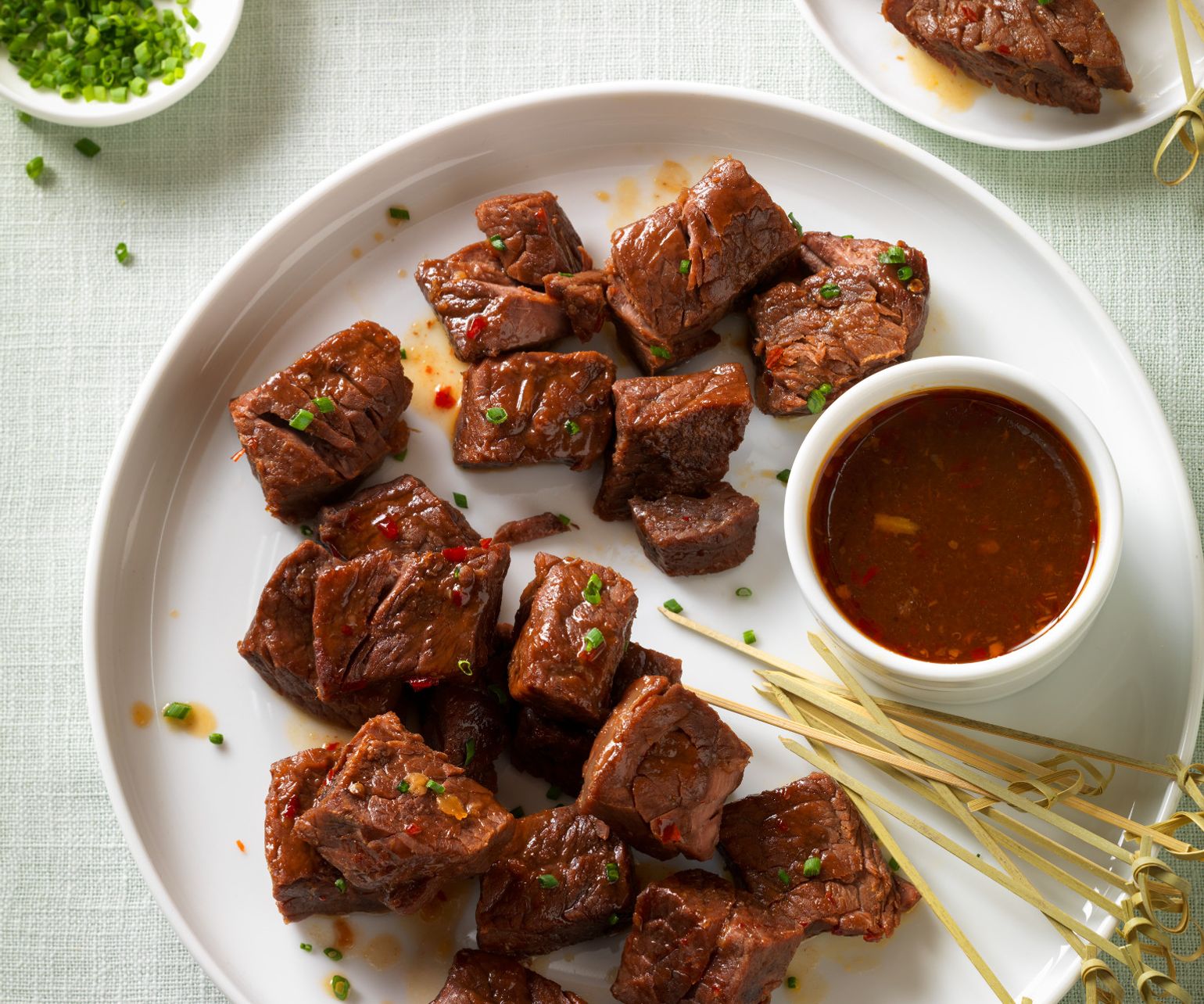 2 HRS 45 MINS
Time to Cook
Preparation
Step 1

Preheat oven to 325°F. Combine mirin, sweet chili garlic sauce, water, brown sugar, agave nectar and ginger in stockpot over medium heat stirring occasionally until sugar dissolves. Place beef ribs in stockpot; bring to a boil. Reduce heat; cover tightly. Continue cooking in 325°F oven 1-3/4 to 2 hours or until beef is fork-tender.

Cooking Tip:

Mirin is a low-alcohol, sweet wine made from glutinous rice and is essential in Japanese cooking. It's available in Japanese markets and the ethnic section of most supermarkets. 

Sweet chili garlic sauce, an Asian condiment made from red chilies, garlic and vinegar, imparts a tangy, spicy heat to dishes. Chili garlic sauce is available in Asian markets and the Asian section of most supermarkets. 

Agave nectar is the liquid or syrup extracted from the Agave plant. The nectar is similar to the consistency of honey, but may have a milder flavor. Agave nectar can be found in health food stores or most supermarkets.

Step 2

Remove beef; keep warm. Skim fat from cooking liquid. Bring to a boil; reduce heat and cook 12 to 15 minutes or until sauce is reduced by half. Stir in lime juice and soy sauce. Return beef to cooking liquid; cook 1 to 2 minutes or until heated through, stirring occasionally.

Step 3

Sprinkle beef with chives, if desired. Serve with remaining sauce for dipping, if desired.

Cooking Tip: Beef ribs can be served on 6-inch wooden skewers or with wooden toothpicks.
Nutrition Information
Nutrition information per serving, 1/8 of recipe: 290 Calories; 97.2 Calories from fat; 10.8g Total Fat (4.7 g Saturated Fat; 0.7 g Trans Fat; 0.5 g Polyunsaturated Fat; 5.3 g Monounsaturated Fat;) 51 mg Cholesterol; 668 mg Sodium; 36 g Total Carbohydrate; 0 g Dietary Fiber; 28 g Total Sugars; 15 g Protein; 15 g Added Sugars; 12 mg Calcium; 1.4 mg Iron; 146 mg Potassium; 0.1 mcg Vitamin D; 0.1 mg Riboflavin; 2 mg NE Niacin; 0.2 mg Vitamin B6; 1.6 mcg Vitamin B12; 94.6 mg Phosphorus; 4.7 mg Zinc; 16.3 mcg Selenium; 47.8 mg Choline.
Nutrition Tip
This recipe is an excellent source of Protein, Vitamin B12, Zinc, and Selenium; and a good source of Niacin, and Vitamin B6.