Beef Bolognese with Fresh Egg Pappardelle Pasta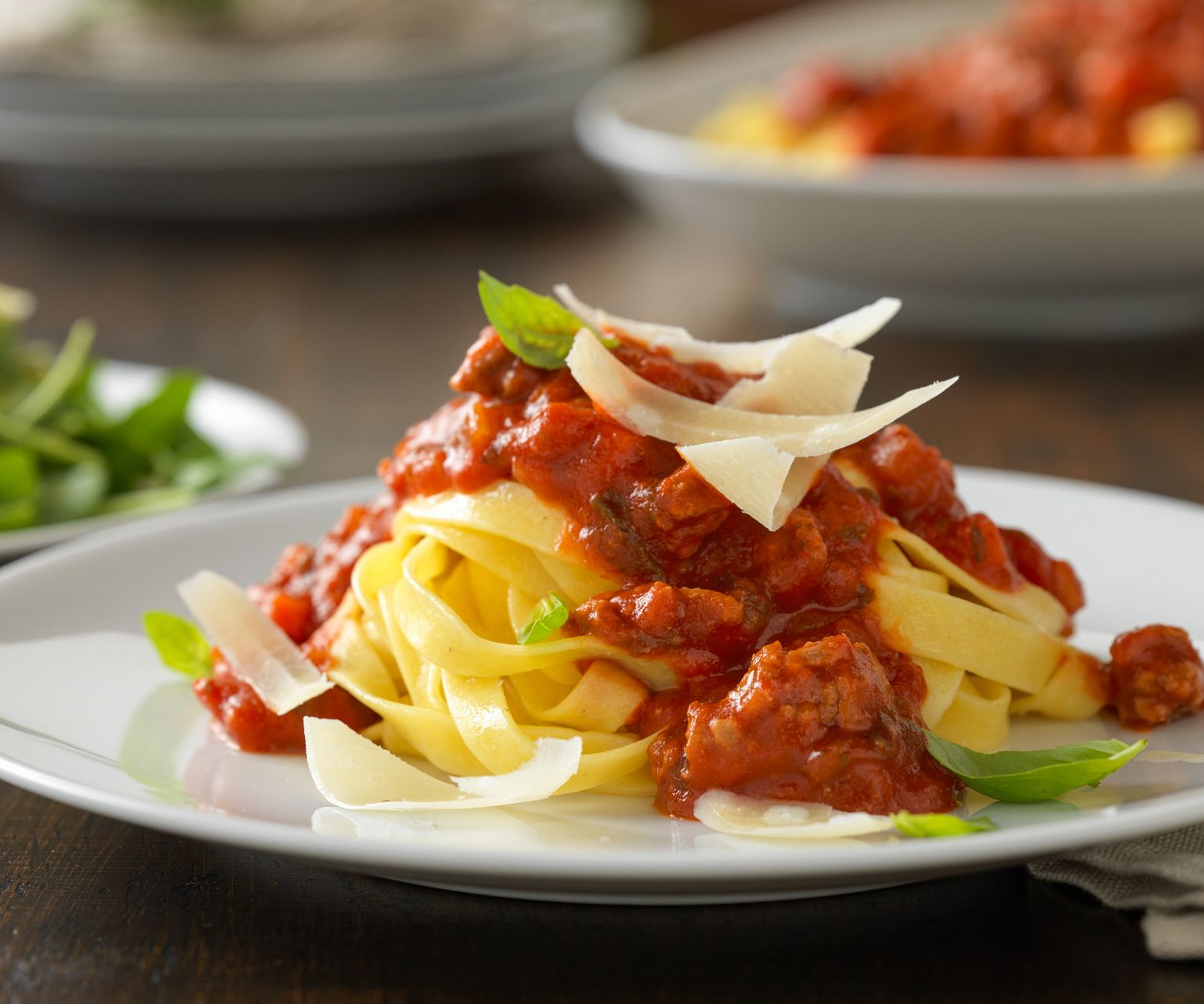 3 HRS 15 MINS
Time to Cook
Ingredients
Sauce:
Fresh Pasta:
Preparation
Step 1

Heat oil in stockpot over medium heat until hot. Add onions, carrot and celery; cook 5 minutes, stirring occasionally. Add red wine; cook and stir 1 to 2 minutes until browned bits attached to stockpot are dissolved. Simmer 5 minutes until wine is reduced by half.Cut 12-inch length of kitchen string and tie together rosemary and thyme sprigs to prepare herb sachet.

Step 2

Add ground beef, tomato sauce, diced tomatoes, 2 tablespoons parmesan cheese, basil, parsley, oregano, sugar, fennel seeds, garlic and red pepper to stockpot; mix well. Add herb sachet, making sure it's covered in sauce; tie end of string to handle of stockpot. Bring mixture to a boil. Reduce heat, cover and simmer 2-1/2 hours, stirring occasionally. Uncover sauce and cook for another 30 minutes, stirring occasionally.

Step 3

Meanwhile, to prepare fresh pasta, mound flour on large cutting board; create large well in center. Place eggs in well. Using fork or fingertips, mix flour into eggs until all flour is absorbed and dough is formed. (Dough may be sticky.) Knead dough 10 to 15 minutes until it becomes lighter in color and surface feels smooth. Wrap dough in plastic wrap; refrigerate 30 minutes.

Cooking Tip: You may use a pasta machine to roll and cut dough.

Step 4

Divide dough into 2 equal pieces. On lightly floured surface, roll out one piece to 12 by 12-inch square; fold in thirds. Roll dough to 12 x 12-inch square. Repeat folding and rolling three times. Using floured knife, cut 1/8-inch wide noodles. Place noodles on parchment-lined shallow-rimmed baking sheet dusted with flour. Repeat with remaining pasta.

Step 5

Fill stockpot with 8 inches of water; bring to a boil. Add salt to water, if desired. Add noodles to stockpot; stir gently; cook 7 to 9 minutes or until pasta is al dente (firm to the bite). Drain noodles; divide noodles among 4 large serving bowls. Remove and discard herb sachet from meat sauce. Top noodles with meat sauce. Garnish with remaining cheese, as desired.
Nutrition Information
Nutrition information per serving: 571 Calories; 153 Calories from fat; 17g Total Fat (7 g Saturated Fat; 5 g Monounsaturated Fat;) 187 mg Cholesterol; 265 mg Sodium; 55 g Total Carbohydrate; 8.3 g Dietary Fiber; 41 g Protein; 8.1 mg Iron; 10.9 mg NE Niacin; 0.8 mg Vitamin B6; 3 mcg Vitamin B12; 7.8 mg Zinc; 41.3 mcg Selenium; 203 mg Choline.
Nutrition Tip
This recipe is an excellent source of Dietary Fiber, Protein, Iron, Niacin, Vitamin B6, Vitamin B12, Zinc, Selenium, and Choline.