Tapatio Hot Sauce™ Beef Tamales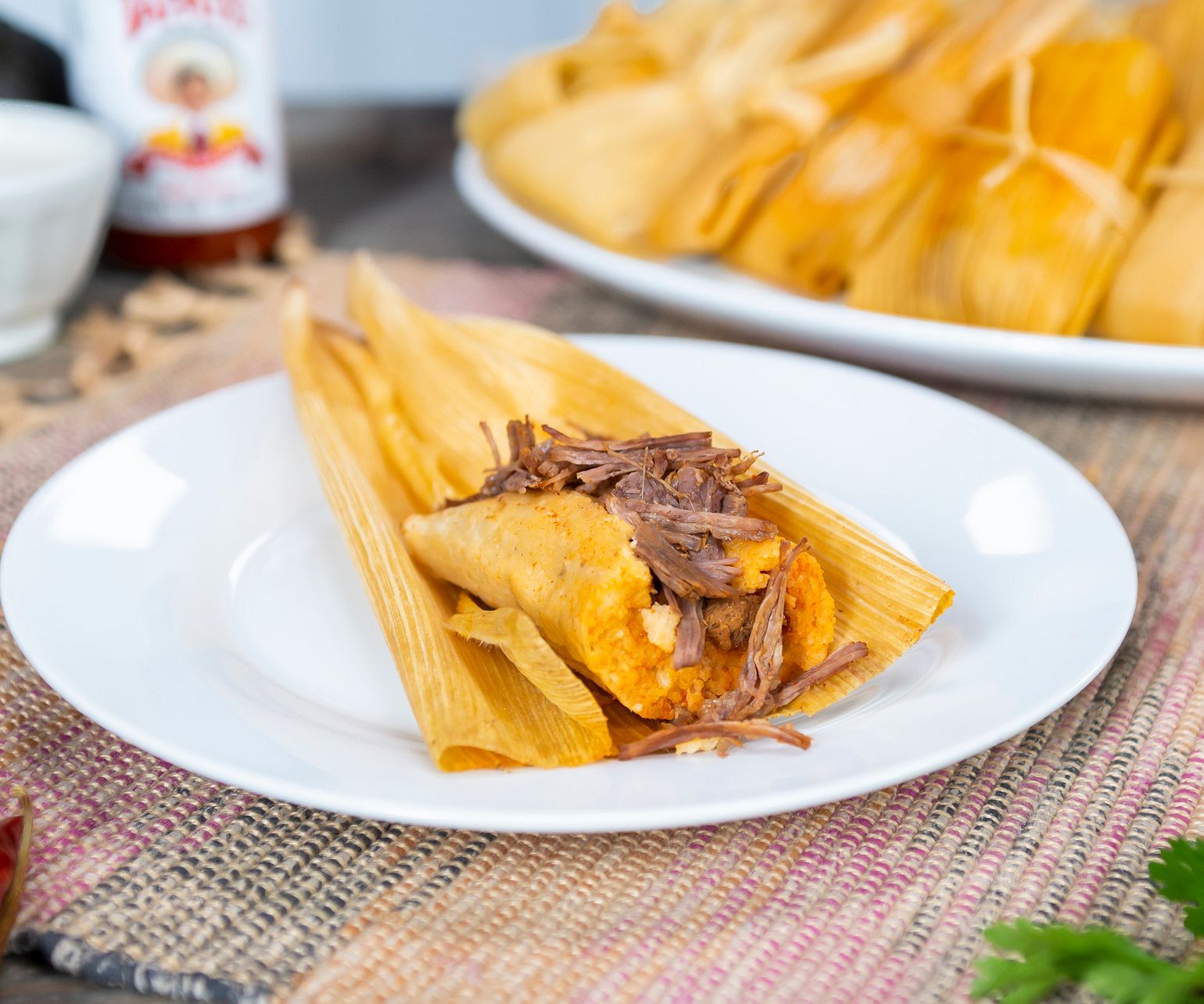 5 HRS 30 MINS
Time to Cook
Ingredients
Chile Sauce:
Masa Dough:
Preparation
Step 1

Place broth and chile peppers in small sauce pan. Bring to a boil then remove from heat. Cover and steep 20 minutes. Place broth and peppers in blender or food processor container; add garlic and cumin. Process 1 minute until smooth.

Step 2

Place beef Blade Chuck Roast pieces in 6-quart pressure cooker, add prepared Chile Sauce. Close and lock pressure cooker lid. Use beef, stew or high pressure setting on pressure cooker; program 60 minutes on pressure cooker timer. Use quick-release feature to release pressure; carefully remove lid. Remove beef and reserve cooking liquid. Cook 15 minutes. Shred beef using 2 forks. Combine beef, 1 cup reserved cooking liquid and salt, as desired in medium mixing bowl. Cover and refrigerate until ready to use.

Cooking Tip: This recipe was tested in an electric pressure cooker at high altitude. Cooking at an attitude of less than 3000 feet may require slightly less cooking time. Refer to the manufacturer's instructions.

Step 3

Place corn husks into large bowl; completely cover with boiling water. Soak husks 30 to 45 minutes. Remove one husk and cut into 24 thin strips. 

Step 4

Place lard in standing mixer bowl with paddle attachment; beat 5 minutes on medium high speed until light and smooth. Add broth or 1 cup reserved cooking liquid and Tapatio Hot Sauce™. Beat until just combined. Slowly add masa harina, baking powder and salt. Reduce speed to medium; beat 5 minutes until combined and smooth; dough should be wet. Cover and let stand 20 minutes to 1 hour.

Step 5

Place steamer basket in 6 quart pot with 1 inch of water; bring water to a simmer. Place 2 to 3 tablespoons dough in center of each prepared husk. Spread dough with back of a spoon. Top with 2 to 3 tablespoons shredded beef mixture. Fold in sides of husks then fold bottom up towards the center. Using one of the thin strips of corn husk, tie tamale so the husk stay in place. Place tamales vertically in steamer basket; cover. Steam tamales 2-1/2 hours, adding more water, as needed. Check tamales for doneness. Remove one from steamer. If husk can easily be removed from dough, tamales are thoroughly cooked. If dough sticks to husk, steam for 15 minutes.

Cooking Tip:

You may steam tamales in the pressure cooker. Place steamer tray and 1 cup water in pressure cooker insert. Place tamales vertically on steam tray. Using the manual function, steam for 1-1/2 hours.




Tamales can be prepared and fully cooked ahead of time and frozen. From frozen, steam tamales on cooktop in steamer basket for 15 minutes until internal temperature reaches 165°F.
Nutrition Information
Nutrition information per serving, 4 tamales: 927 Calories; 630 Calories from fat; 70g Total Fat (26.8 g Saturated Fat; 0 g Trans Fat; 7.5 g Polyunsaturated Fat; 30.6 g Monounsaturated Fat;) 179 mg Cholesterol; 1752 mg Sodium; 30 g Total Carbohydrate; 5.5 g Dietary Fiber; 44 g Protein; 126 mg Calcium; 8.1 mg Iron; 852 mg Potassium; 0.9 mg Riboflavin; 6.4 mg NE Niacin; 1.1 mg Vitamin B6; 3.1 mcg Vitamin B12; 414 mg Phosphorus; 13.4 mg Zinc; 37 mcg Selenium; 175.6 mg Choline.
Nutrition Tip
This recipe is an excellent source of Protein, Iron, Riboflavin, Niacin, Vitamin B6, Vitamin B12, Phosphorus, Zinc, Selenium, and Choline; and a good source of Dietary Fiber, and Potassium.