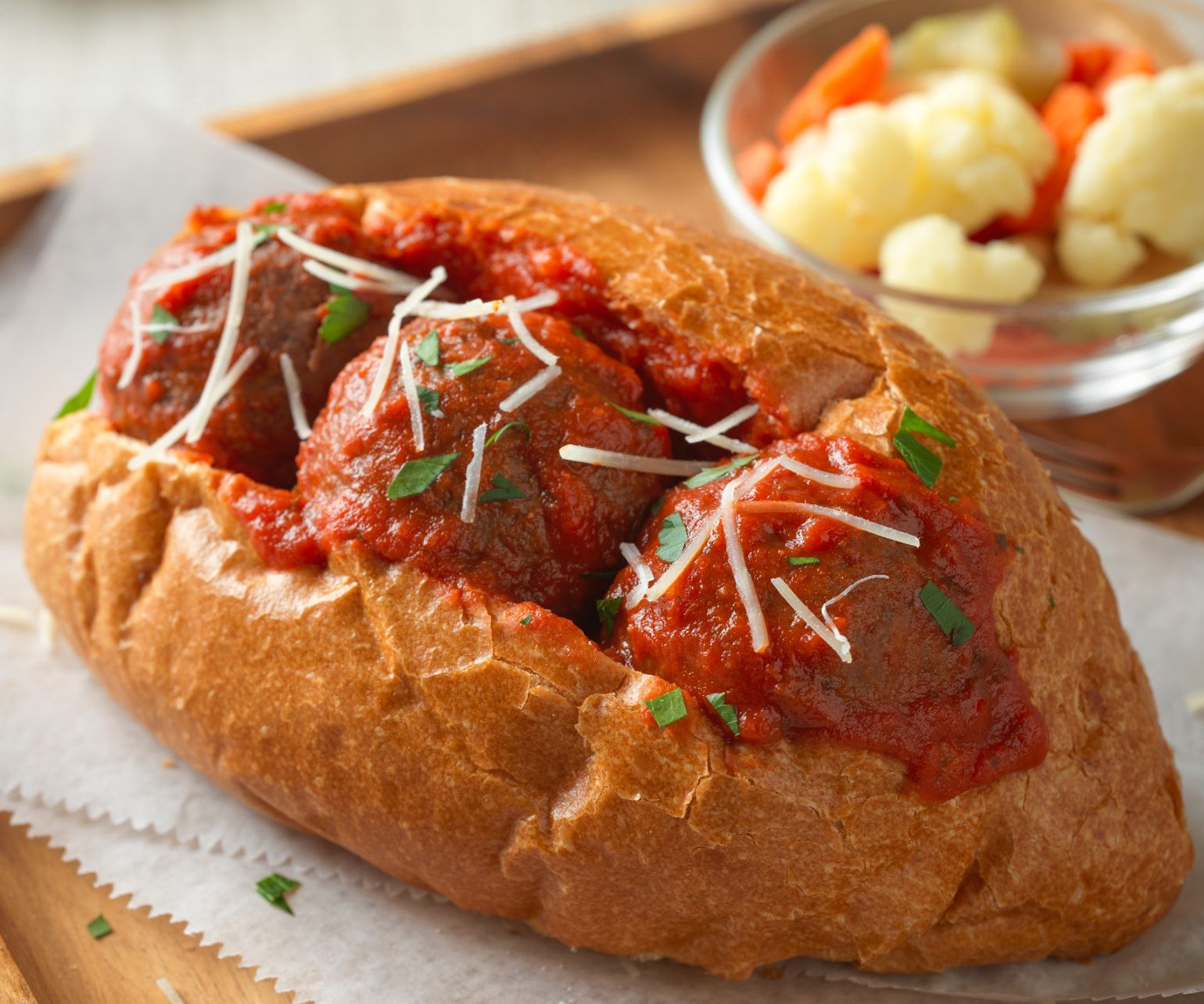 Preparation
Step 1

Preheat oven to 400°F. Combine Ground Beef, bread crumbs, egg whites, water, salt and pepper in large bowl, mixing lightly but thoroughly. Shape into twelve 2-inch meatballs. Place on rack in broiler pan that has been sprayed with cooking spray. Bake in 400°F oven 18 to 20 minutes.

Cooking Tip: Cooking times are for fresh or thoroughly thawed ground beef. Ground beef should be cooked to an internal temperature of 160°F. Color is not a reliable indicator of ground beef doneness.

Step 2

Heat pasta sauce according to package directions in medium saucepan. Add hot cooked meatballs to pasta sauce; stir to coat evenly. Divide meatballs and sauce evenly among rolls. Top evenly with giardinera.

Cooking Tip: Giardiniera is a mixture of vegetables, traditionally peppers, carrots, celery and onions, pickled in a white or red vinegar and oil mixture. It is sold in mild or hot varieties.
Nutrition Information
Nutrition information per serving, using healthy pasta sauce and without giardiniera: 533 Calories; 117 Calories from fat; 13g Total Fat (3.9 g Saturated Fat; 0.2 g Trans Fat; 0.5 g Polyunsaturated Fat; 3.4 g Monounsaturated Fat;) 84 mg Cholesterol; 1265 mg Sodium; 66 g Total Carbohydrate; 0.2 g Dietary Fiber; 11.6 g Total Sugars; 37 g Protein; 0 g Added Sugars; 106.4 mg Calcium; 6.6 mg Iron; 816 mg Potassium; 0 mcg Vitamin D; 0.6 mg Riboflavin; 6.7 mg NE Niacin; 0.4 mg Vitamin B6; 2.8 mcg Vitamin B12; 236 mg Phosphorus; 6.5 mg Zinc; 26.1 mcg Selenium; 95.2 mg Choline.
Nutrition Tip
This recipe is an excellent source of Protein, Iron, Riboflavin, Niacin, Vitamin B6, Vitamin B12, Zinc, and Selenium; and a good source of Potassium, Phosphorus, and Choline.