Four-Way Baked Mini Meatballs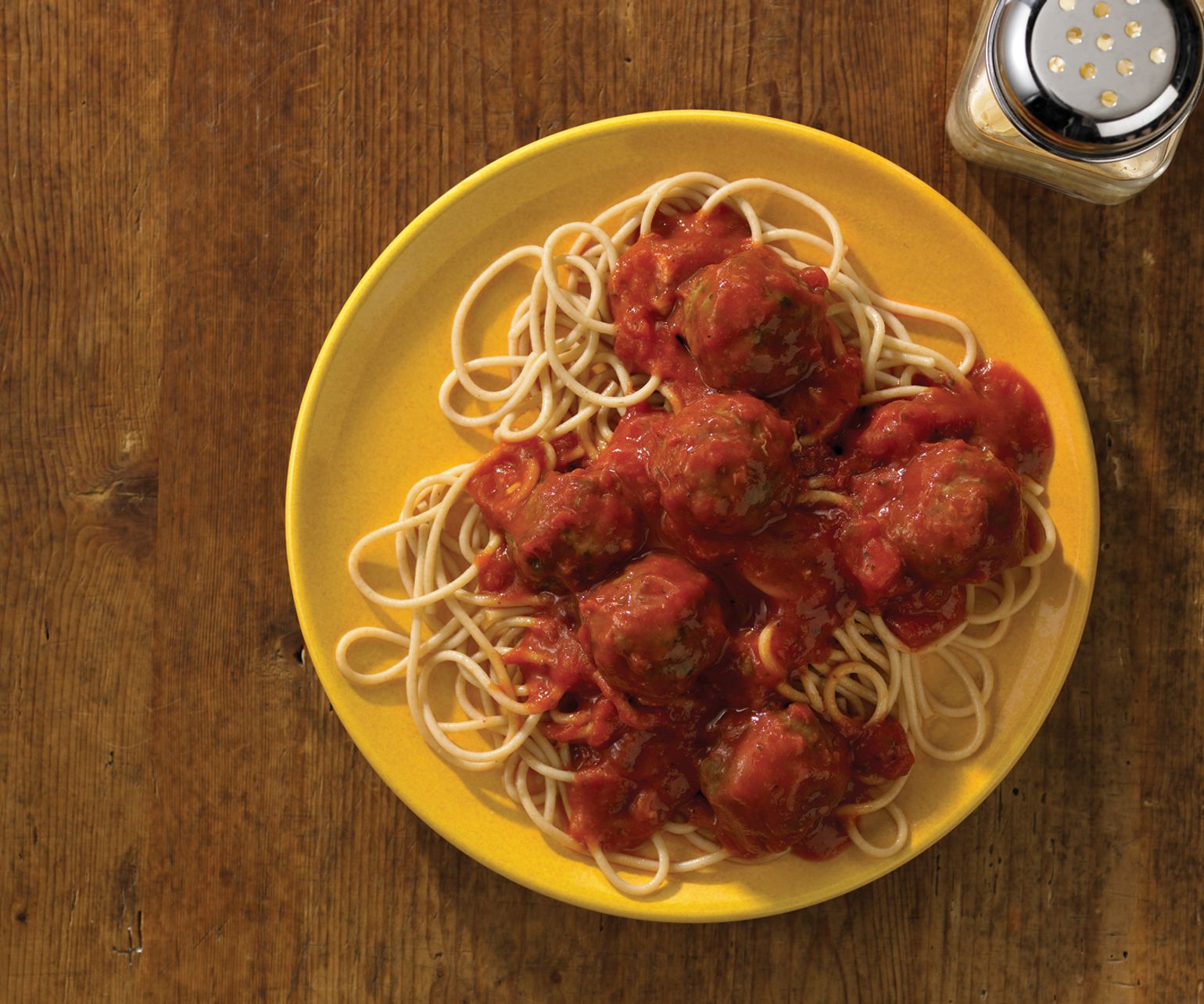 Preparation
Step 1

Heat oven to 400°F. Combine Ground Beef, spinach, bread crumbs, egg whites, water, garlic, salt and pepper in large bowl, mixing lightly but thoroughly. Shape into twenty four 1-inch meatballs. Place on rack in broiler pan sprayed with cooking spray. Bake in 400°F oven 18 to 20 minutes.

Cooking Tip: For easy clean up, line broiler pan (not rack) with aluminum foil.

Step 2

Use meatballs to prepare one of the following recipes for pizzas, sandwiches, pasta or soup. Meatball Pizzas: Heat oven to 450°F. Spread 1-1/3 cups pizza or marinara sauce evenly over four 8-inch whole wheat pita breads. Carefully cut hot cooked meatballs in half; place 12 halves on each pizza. Top evenly with 1 cup shredded mozzarella cheese or Italian cheese blend. Place on 2 baking sheets. Bake in 450°F oven 8 to 10 minutes or until cheese is melted and crusts are crisp. Meatball Sandwiches: Heat 1 jar (14-1/2 ounces) marinara sauce according to package directions until hot. Add hot cooked meatballs; stir to coat evenly. Spoon meatball-sauce mixture evenly into 4 split French bread rolls. Top with sautéed onion and bell pepper, and shredded mozzarella cheese or Italian cheese blend, if desired. Meatballs and Pasta: Cook 8 ounces dry pasta according to package directions; drain. Keep warm. Meanwhile heat 1 jar (26 ounces) pasta sauce according to package directions until hot. Add hot cooked meatballs to pasta sauce; stir to coat evenly. Serve over pasta. Meatball Soup: Combine 1 can (15 ounces) rinsed and drained Great Northern or pinto beans, 1 can (14-1/2 ounces) undrained seasoned diced tomatoes, 1 can (13-3/4 to 14-1/2 ounces) ready-to-serve beef broth, 2 cups frozen mixed vegetables and 1 cup water in medium saucepan; bring to a boil. Reduce heat; simmer 5 minutes. Add hot cooked meatballs; continue simmering 5 minutes to blend flavors. Serve with shredded Parmesan cheese, if desired.
Nutrition Information
Nutrition information per serving, meatballs only: 226 Calories; 86.4 Calories from fat; 9.6g Total Fat (3.8 g Saturated Fat; 0.1 g Trans Fat; 0.7 g Polyunsaturated Fat; 3.8 g Monounsaturated Fat;) 131 mg Cholesterol; 492 mg Sodium; 6 g Total Carbohydrate; 0.4 g Dietary Fiber; 0.5 g Total Sugars; 29 g Protein; 0 g Added Sugars; 47.3 mg Calcium; 3.9 mg Iron; 411 mg Potassium; 12.3 mcg Vitamin D; 0.3 mg Riboflavin; 6.7 mg NE Niacin; 0.4 mg Vitamin B6; 2.9 mcg Vitamin B12; 259 mg Phosphorus; 6.7 mg Zinc; 26.7 mcg Selenium; 132 mg Choline.
Nutrition Tip
This recipe is an excellent source of Protein, Iron, Vitamin D, Riboflavin, Niacin, Vitamin B6, Vitamin B12, Phosphorus, Zinc, Selenium, and Choline.