Deconstructed Beef Tamales with Chimichurri Sauce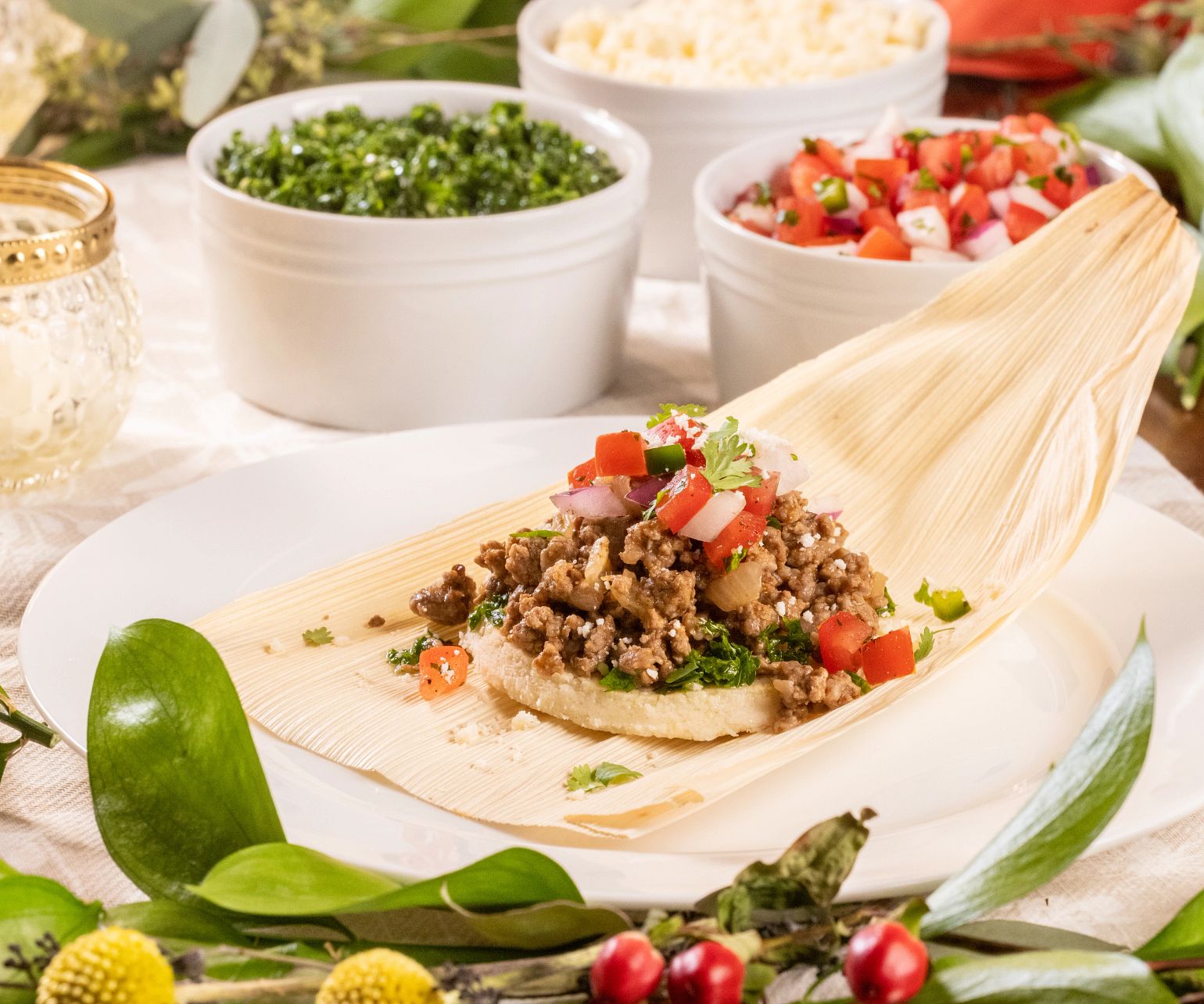 Preparation
Step 1

Pre heat oven to 375°. In a medium size bowl combine Masa and hot water; mix until dough forms. Transfer mixture on to greased sheet pan and spread mixture evenly. Bake for 10 to 12 minutes. Remove from oven and cut into 6 even pieces. 

Cooking Tip: If you have a biscuit cutter use it to cut masa into round shaped pieces. Otherwise cut the masa into squares. 

Step 2

In a large skillet over medium heat combine ground beef, onions, gujilo powder, chile powder, and salt. Break ground beef into small crumbles and cook for 10 to 15 minutes. 

Step 3

In a food processor; add parsley, cilantro, olive oil, and garlic. Pulse 4 to 6 times or until ingredients are combined sauce is thick. Season with salt and pepper to taste. 

Step 4

To assemble. Lay down one corn husk and top with masa, chimichurri sauce, ground beef mixture,  Pico de  Gallo, Cotija cheese, and fresh lime.   
Nutrition Information
Nutrition information per serving, 3 oz: 585 Calories; 190.8 Calories from fat; 21.2g Total Fat (6.4 g Saturated Fat; 0.3 g Trans Fat; 2.5 g Polyunsaturated Fat; 10.3 g Monounsaturated Fat;) 77 mg Cholesterol; 1008 mg Sodium; 68.7 g Total Carbohydrate; 6.1 g Dietary Fiber; 7 g Total Sugars; 32 g Protein; 0 g Added Sugars; 209.1 mg Calcium; 9.7 mg Iron; 682 mg Potassium; 0 mcg Vitamin D; 0.8 mg Riboflavin; 15.6 mg NE Niacin; 0.8 mg Vitamin B6; 2.4 mcg Vitamin B12; 439 mg Phosphorus; 7.2 mg Zinc; 26.5 mcg Selenium; 83.9 mg Choline.
Nutrition Tip
This recipe is an excellent source of Dietary Fiber, Protein, Iron, Riboflavin, Niacin, Vitamin B6, Vitamin B12, Phosphorus, Zinc, and Selenium; and a good source of Calcium, Potassium, and Choline.