Burgers with Grilled Onions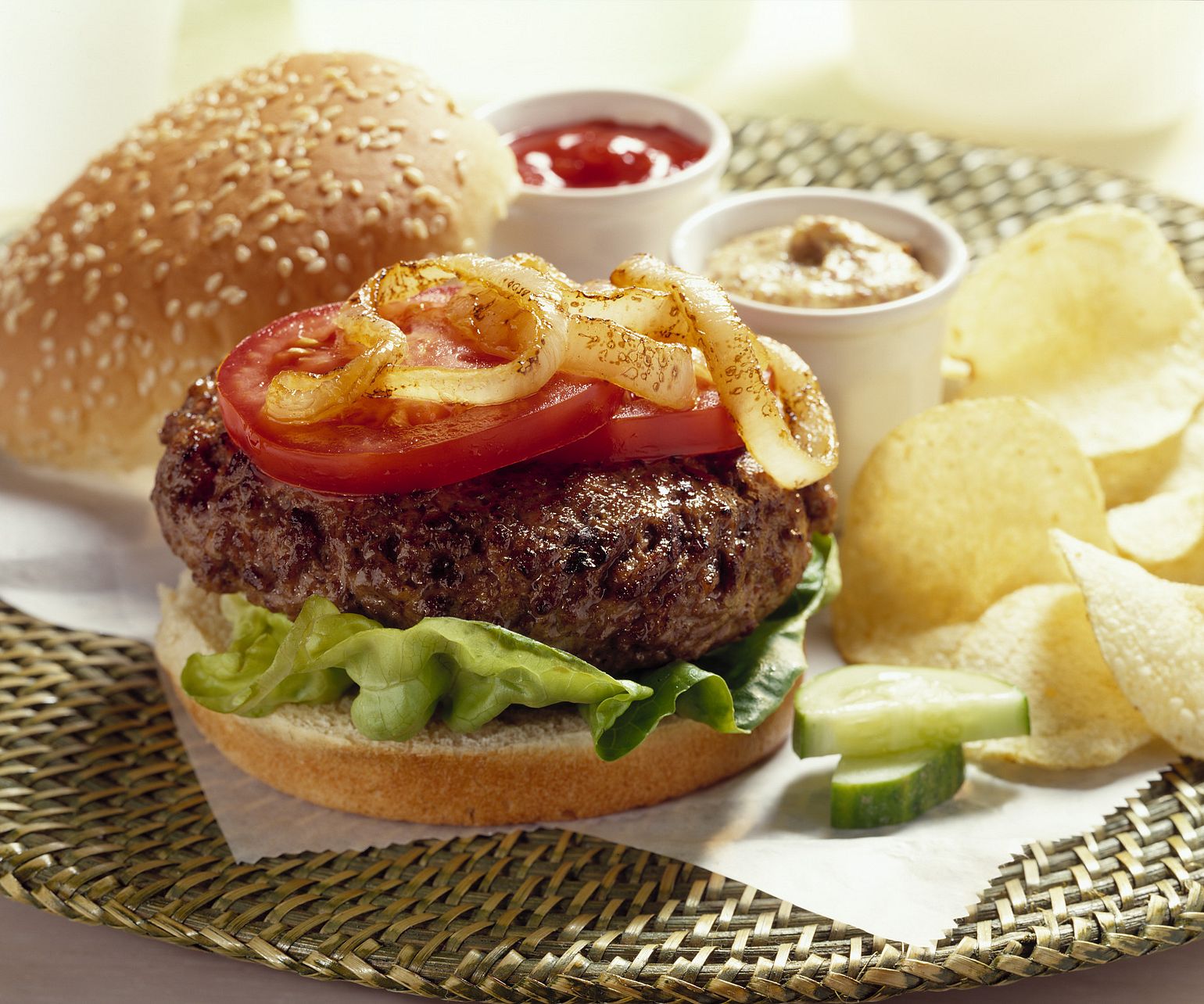 Preparation
Step 1

Lightly shape Ground Beef into four 3/4-inch thick patties. Brush onion with cooking spray.

Step 2

Place patties and onion slices on grid over medium, ash-covered coals. Grill, covered, 11 to 15 minutes (over medium heat on preheated gas grill, 13 to 14 minutes) until instant-read thermometer inserted horizontally into center registers 160°F, turning occasionally. Grill onions, 10 to 12 minutes or until tender, brushing with cooking spray and turning occasionally.

Cooking Tip:

Cooking times are for fresh or thoroughly thawed Ground Beef. Ground beef should be cooked to an internal temperature of 160°F. Color is not a reliable indicator of ground beef doneness.

To toast buns, place cut sides down around outer edge of grid. Grill until lightly toasted.

Step 3

Season burgers and onions with salt and pepper, as desired.

Step 4

Line bottom of each bun with lettuce. Place burgers on top of lettuce. Top with tomatoes and grilled onions. Close bun.
Nutrition Information
Nutrition information per serving using 93% lean ground beef: 400 Calories; 124.2 Calories from fat; 13.8g Total Fat (5.3 g Saturated Fat; 0.2 g Trans Fat; 1.3 g Polyunsaturated Fat; 5.3 g Monounsaturated Fat;) 126 mg Cholesterol; 327 mg Sodium; 25.6 g Total Carbohydrate; 0.6 g Dietary Fiber; 4.8 g Total Sugars; 43.1 g Protein; 0 g Added Sugars; 88.5 mg Calcium; 5.8 mg Iron; 665 mg Potassium; 0 mcg Vitamin D; 0.4 mg Riboflavin; 11.2 mg NE Niacin; 0.7 mg Vitamin B6; 4.3 mcg Vitamin B12; 386 mg Phosphorus; 10 mg Zinc; 43.5 mcg Selenium; 149.6 mg Choline.
Nutrition Tip
This recipe is an excellent source of Protein, Iron, Riboflavin, Niacin, Vitamin B6, Vitamin B12, Phosphorus, Zinc, Selenium, and Choline; and a good source of Potassium.